CSLB Launches Veterans Application Assistance Program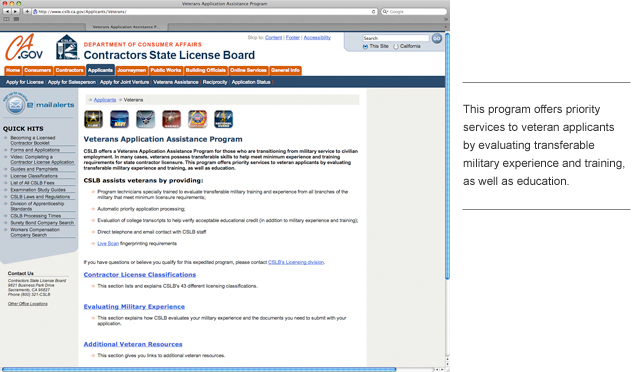 In response to state and federal initiatives, CSLB has launched a program to assist those who are transitioning from military service to civilian employment. For many veterans, finding civilian employment can be difficult. Yet, in many cases, veterans have transferable skills that meet minimum experience and training requirements for state contractor licensure.
"I'm proud that our board was among the first to implement this exciting new program, which recognizes the contributions and skills of those returning from military service," said CSLB Registrar Steve Sands.
CSLB staff partnered with the California Military Department to identify specific job classifications that would meet California's minimum standards for licensure. The board's program helps expedite the application process for veterans, and provides them with direct email access to CSLB employees who are trained to evaluate military job ranges and classifications.
Click here for more information about CSLB's Veterans Application Assistance program.