18-Month CSLB Investigation of Complex Telemarketing Scheme Leads to Multiple Felony Arrests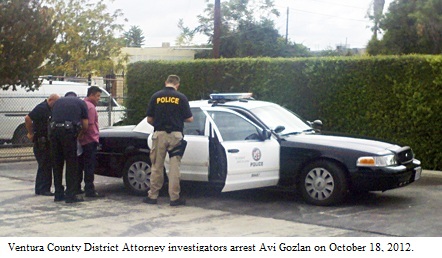 CSLB investigators in Southern California played a major role in an 18-month investigation that led to two license revocations and three arrests, with suspects facing more than two dozen felony charges. One of those arrested had his CSLB licenses revoked in 2000.
Avi Hviv Gozlan, Ely Kavon, and Debra Lyn Mabrie all were arrested in October and face grand theft, money laundering, elder abuse, conspiracy to contract without a license, and aggravated white collar crime enhancement charges. In 2000, CSLB revoked Gozlan's prior contractor licenses (#623475, #588258, #657792, #706308) for failure to comply with contractor laws.
The Ventura County District Attorney's Office alleges the group ran a fraudulent remodeling and home improvement scheme operating across Southern California under the names Amco, Inc., Liberty Construction, Universal Remodeling, VIP Home Design, Inc., and Vista Home Improvement, Inc. The defendants misled consumers into believing these companies were properly licensed with CSLB by "renting" legitimate licenses from other contractors for a monthly fee. In reality, licensed contractors were not overseeing or participating in these contracting businesses.
Business and Professions Code section 7068.1 requires all responsible managing officers (RMOs) and responsible managing employees (RMEs) who qualify a license to exercise direct supervision and control of contracting operations.
Gozlan, Kavon and Mabrie are accused of selling home improvement services to consumers by utilizing a complex network of telemarketers who made hundreds of daily calls—many times contacting the same consumers multiple times—and presenting themselves as different companies with varying home improvement services.
These calls led to home improvement work that was substandard, never completed, or offered services they ultimately failed to provide.
If convicted of all charges, each defendant faces a maximum sentence of 18 years in state prison. RMOs for two of the companies (VIP Home Design, #383579 and Liberty Construction, #640562) already have pleaded guilty to conspiracy charges and have had their contractor license revoked.