CSLB Targets Illegal Contractors Advertising Online and in Traditional Media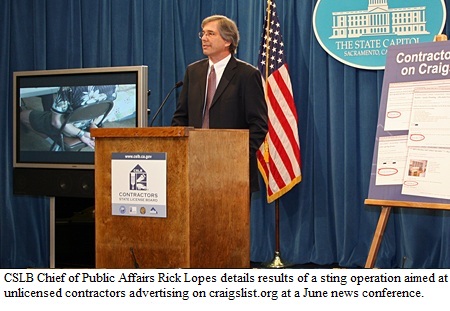 Online bulletin boards have become an economical way for contractors to advertise, but they also have become a hotbed of illegal and deceptive ads. One of this year's CSLB enforcement efforts to create a level playing field in the construction industry and protect consumers has been to address unlicensed contracting activity on the Internet.
"Many sting targets have been identified in online advertisements during the past few years, but the problem is growing," said CSLB Registrar Steve Sands. "This has created an even greater need to warn consumers about illegal contracting ads and the importance of making sure their contractor is state-licensed."
The outgrowth of discussions with sister agencies in other states and the National Association of State Contractors Licensing Agencies (NASCLA) resulted in simultaneous multistate sting operations in California, Arizona, Oregon, and Nevada that only targeted individuals who run ads for construction services in online bulletin boards. The mid-June effort peaked news coverage about unlicensed contracting in the western states. CSLB caught 100 unlicensed individuals in eight different cities who advertised on craigslist.org during the operation. One suspect was a convicted murderer; two others are registered sex offenders.
A second operation was conducted in September that drew even more attention when Rhode Island, South Carolina, and Utah joined the original four states in the effort to warn consumers and curb illegal contracting activity. During those operations, CSLB arrested 36 individuals in three different cities who, similar to those arrested in June, faced misdemeanor charges of contracting without a license (Business and Professions Code section 7028) and illegal advertising (Business and Professions Code section 7027.1).
"The multistate sting effort is gaining momentum," said Sands. "We expect to see even more states participate next year."
CSLB also continues to conduct its own simultaneous statewide stings throughout the year. In addition to online advertisements, sting targets are gathered through telephone directories, newspapers, fliers and other publications.
The most recent "California Blitz" was conducted on October 17 and 18. CSLB's Statewide Investigative Fraud Team (SWIFT), assisted by local, state, and federal law enforcement officials, conducted stings in seven counties, culminating in the arrest of 92 individuals for contracting without a license. Most of those arrested also can be charged with other offenses, such as illegal advertising, and requesting an excessive down payment (Business and Professions Code section 7159.5). Fifteen were issued Stop Orders (Business and Professions Code section 7127), which halts job site activity when any person with or without a contractor license does not have workers' compensation insurance coverage for employees.
Sands added, "CSLB and its partners in law enforcement are serious about enforcing our state's consumer protection laws. Unlicensed, illegal activity that puts homeowners at risk and puts those who follow state laws at a competitive disadvantage will not be tolerated."