CSLB Needs Industry Experts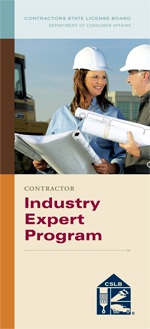 CSLB relies on its Industry Expert Program (IEP) to provide a variety of essential services, including assisting its Enforcement division with consumer complaint investigations. IEP is comprised of a statewide pool of licensed tradespeople who serve as independent consultants and are compensated by the board for their time.
Many join the program to help regulate and give back to the construction industry. Their unbiased professional opinions help protect the public from unscrupulous licensed and unlicensed contractors as well as assist in settling licensee disputes to help reduce formal disciplinary action. "The Enforcement division has the utmost respect for industry experts and considers them to be significant partners in maintaining the integrity of California's construction industry," said CSLB Enforcement Chief Dave Fogt.
CSLB's investigators consult with industry experts (IEs) to determine if completed work meets industry standards, is performed per plans and specifications, and matches contract terms and agreements. IEs regularly testify in arbitration proceedings, criminal hearings, and administrative hearings. Because IE testimony often is crucial to supporting criminal and/or administrative violations, participating contractors must possess effective written and verbal skills in addition to their knowledge of industry and code standards. IEs must have held a contractor license for at least five years that is current and free of unresolved licensing and enforcement actions, and they must be knowledgeable about up-to-date, accepted trade standards in their areas of expertise.
Currently, the board has a sufficient number of "B" General Building contractors and is accepting applications only from contractors with a "C" Specialty contractor classification.
For more information, click here. To apply, please email your qualifications and preferred work location to: IndustryExpert@cslb.ca.gov.