Agencies Expedite Well Drilling Licensing During Drought
California's driest year in recorded state history now is posing health and safety concerns for families who rely on well water and businesses that require ground water resources. The resulting demand for well drillers has created a backlog in some Central Valley and Southern California counties.
In response, CSLB has been expediting applications for C-57 Well Drilling and C-61/D-21 Limited Specialty Machinery and Pumps contractors while the State of Emergency that was declared by Governor Edmund G. Brown Jr. is in effect.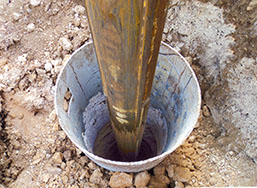 "A" General Engineering contractors also are being encouraged to add the C-57 classification to their license. "A's" are authorized to perform water supply projects but not well drilling unless they hold the C-57 classification. To add that, "A" licensees need to have four years of verifiable journey-level C-57 experience, take the C-57 exam, and pass a criminal background check (unless previously completed with CSLB), but don't have to retake the law and business examination.
State agencies also are recommending that qualified out-of-state well drillers consider becoming licensed in California during the emergency conditions. All out-of-state contractors still must follow California contracting laws, and water well drillers still must: 1) adhere to Department of Water Resources well standards and file well completion reports; and 2) meet applicable Air Resources Board standards and guidelines.
Anyone currently performing well drilling services in California must have a CSLB license; CSLB encourages unlicensed individuals to complete their CSLB application process and become properly licensed. The California Employment Training Panel (CETP) funds job training for "emergency needs related to drinking water" in eligible counties. Employers interested in accessing this fund to train and hire additional employees under the new pilot program are encouraged to visit the CETP website.
CSLB and partner agencies – the Governor's Office of Emergency Services, California Air Resources Board, Department of Water Resources, and the Governor's Office of Planning and Research – are taking steps to identify and reduce bottlenecks in the regulatory processes to enable well drillers to perform their trade.
ARB has identified an existing process to allow drilling rigs that do not meet current air standards to operate in the state for emergency operations; the ARB fact sheet explains air quality standards during a state emergency.
Current licensees who work on water well projects or water well machinery can only subcontract to California-licensed C-57 and/or C-61/D-21 contractors; C-61/D-21 contractors can only work on pump maintenance and/or replacement, not the actual water well drilling.
Water well drillers and machinery/pump contractors who want to work in California must follow these steps to apply for a license:
Submit an "Application for Original License" to CSLB.

Document four years of journey-level experience in the classification within the 10 years immediately preceding the application submission.

Take and pass the trade and law examinations (CSLB has a reciprocity agreement with Nevada; some examinations may be waived for individuals who are licensed contractors in Nevada).

Submit a contractor bond of $12,500.

Provide proof of a workers' compensation insurance policy for employees.
(Bond and insurance requirements may differ for various types of business entities and qualifying individuals.) Pertinent California contractor licensing fees:
Original application: $300

Initial license fee (2 years): $180

Adding a classification: $75
To avoid processing delays, CSLB urges all applicants to submit verifiable documentation for their claimed industry experience. About half of the applications currently being processed have been held up by inadequate or missing documentation.
For additional information, check CSLB's
online resources
or call CSLB's toll-free automated line, 800.321.2751. Drillers who are out of compliance with licensing or other regulatory violations can be reported to CSLB by submitting a
Consumer Complaint form
.