Avoid Customer Misunderstandings – Put It In Writing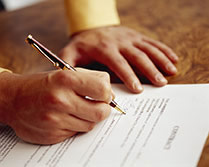 One of the most common disputes that CSLB is called upon to help settle continues to involve changes to home improvement contracts that aren't written down.
Vague contracts, or modifications made without written change orders, do more to sabotage the relationship between contractor and client than almost any other type of complaint.
Ironically, this type of friction can be avoided by taking a few preventative steps:
Make sure the written contract includes the necessary amount of detail to complete a project to a customer's satisfaction. Ask your customers to confirm that they understand all the terms before they sign the initial contract. The provisions and requirements of home improvement contracts are spelled out in Business and Professions Code section 7159 and in the CSLB publication "Contracting for Success – A Contractor's Guide to Home Improvement Contracts."

Include in the contract a section about project changes. Any change order to the original terms must be in writing to protect contractors and customers from misunderstandings. This includes work that will not alter the contract price. Verbal agreements made casually with a customer (so as to not hold up work or seemingly too minor to document at the time) can backfire on licensees seeking to get paid at the end of their efforts. Having written and authorized change orders leaves little room for argument.