---
Limited Liability Company
Licensing on the Horizon
Limited liability companies (LLCs) will be able to apply for a CSLB license by January 1, 2012, as required by 2010 state legislation.
CSLB's licensing and programming staff are in the process of establishing the new application process, which will include new personnel categories that include officers and members. The LLC license will also require a $100,000 employee bond and $1,000,000 to $5,000,000 in liability insurance.
LLC applicants will have to fill out a separate application for licensure as a sole owner, partnership, or corporation. Those interested in applying for an LLC license should periodically check the Forms & Applications section of the CSLB website; the form will appear there as soon as CSLB is prepared to process the new LLC applications.
You can also sign up for CSLB email alerts for industry bulletins , and follow the board on Twitter and Facebook for announcements regarding LLC applications and other important news and information related to home improvement contracting and the construction industry.
---
CSLB Announces Model
Workers' Compensation
Enforcement Partnership
CSLB and the Butte County District Attorney's Office and Building Department agreed to share resources to strengthen enforcement of construction licensure and workers' compensation laws for C-39 Roofing, C-53 Swimming Pool, and C-29 Masonry (swimming pool-related) contractors.
The Butte County Board of Supervisors approved an action item in August that will require its building department to verify workers' compensation insurance compliance whenever a contractor or owner-builder applies for a building permit for swimming pool or roofing work.
CSLB and its partners in law enforcement, local government, and the construction industry anticipate significant success in this new pilot project, which could eventually be expanded to include additional contractor license classifications. Quarterly statistics collected by Butte County will determine whether the program warrants expansion to the additional license classifications.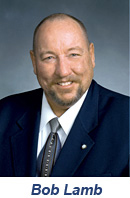 A Message From the Board Chair
It is an honor to serve as your new CSLB Board Chair. I assure you that I am approaching this position with my sincere dedication to maintaining and improving services for contractors wherever possible.
There's a lot of good news coming out of CSLB. Specifically, passage of the 2011–12 state budget helped avoid any interruption of CSLB's daily operations and its enhanced enforcement efforts against unlicensed individuals and the underground economy. And, despite ongoing travel restrictions for non-essential activity, weekly construction site sweeps and sting operations are still under way.
Part of CSLB's innovation and continuous improvement efforts have included a new Enforcement division training program to keep staff up-to-date with investigative methods to help assure that CSLB provides district attorneys with cases that will prosecute violators of state contracting laws to the maximum extent possible. Even better, these courses are being taught in-house, at no extra cost, by staff members who have career law enforcement backgrounds—part of the board's unwavering efforts to help level the playing field for legitimate licensees.
CSLB's partnerships continue to expand. Working with the Nevada State Contractors Board, CSLB held a joint sting operation in May, followed by a joint board meeting in June that strengthened enforcement along state lines. CSLB's new authority to issue immediate stop orders where there is a lack of workers' compensation insurance for jobsite employees is proving to be successful in its first year. Local government is even assisting: a partnership was recently established with the Butte County District Attorney's Office, with staff time dedicated to this effort. Also, the Butte County Building Department will require proof of a workers' comp policy before issuing permits.
In the coming weeks, CSLB will be announcing expanded payment options for new and renewing licensees. Last year, CSLB enabled credit card payments for contractor license renewal, HIS registration renewal, license reactivation, and re-examination fees. Soon you will be able to use a credit card for 11 different types of transactions using either a Visa, MasterCard, Discover or American Express card at the Sacramento headquarters office:
Contractor license renewal
HIS registration renewal
Contractor license reactivation
Re-examination
Original exam/exam waiver application
Initial license
Additional classification application
Asbestos certification application
Hazardous certification application
Application to replace qualifying individual
Home improvement salesperson
Keep in mind that a new licensing opportunity will take place before the end of this year: limited liability companies (LLCs) will be able to apply for a contractor license for the first time. This was made possible with the passage of Senate Bill 392 and becomes effective no later than January 1, 2012. Information on how to license an LLC will be available on the CSLB website later this year.
One of the ongoing challenges is to maintain operations with diminished resources. The state hiring freeze has, for months, kept CSLB from filling staff positions in its Licensing Information Center, so wait times have increased. Whenever possible, I encourage you to use the CSLB website as a resource, and to answer your questions.
Remember that you can also follow CSLB updates on Facebook and Twitter, and participate in various issue discussions throughout the year. The best way to receive your California Licensed Contractor newsletter and current CSLB information is by signing up for "Email Alerts." The Email Alert sign-up feature is available on every page of the website and ensures that you will automatically receive news and industry bulletins, meeting announcements or newsletters.
Respectfully,

Bob Lamb
Members of the CSLB Board
---