---

It's Easy to Be Social
Have a smart phone? Access CSLB Mobile by scanning this QR (Quick Response) code to check a license, sign up for email alerts, report unlicensed activity, and more.
Receive updates on news, events, and other important licensee information by joining and following CSLB discussions on Facebook and Twitter.
Classification Reminder
When contracting for a project, make sure that the work you perform is within your license classification. Under Business and Professions Code section 7117.6, licensees must work within the scope of their license. Acting as a contractor in an unauthorized classification is punishable by fines of up to $5,000.
If you are interested in adding a classification to your existing license, and have the qualifying experience to pass the applicable examination, you can obtain an
application to add an additional classification
on the CSLB website.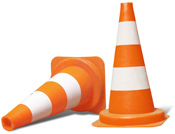 Common Causes for CSLB Revocations and Suspensions
One of the most common reasons for contractor license revocation or suspension is failure to submit payments within the appropriate time frame following citations or CSLB arbitration decisions.
To avoid a license suspension, licensees must pay their citations within 15 days of issuance (barring appeal) and arbitration decisions within 30 days. If no payment or appeal has been made before the citation order is final, a Notice of Intent to Suspend is sent. After 30 days of non-compliance with a citation or arbitration decision, the license can be suspended immediately. If the citation or arbitration decisions are not satisfied 90 days following the suspension, CSLB will revoke the contractor license.