---
2012 Contractor Law & Reference Book Now Available
CSLB's comprehensive resource, the 2012 California Contractor License Law & Reference Book, is now available for purchase through Matthew Bender & Company website. The price is $23, plus $9.49 shipping and handling. To place an order by mail, send a check or money order, payable to Matthew Bender & Company, Inc., Attn. Customer Service, 1275 Broadway, Albany, NY 12204-2694. Be sure to include the street address and the recipient's name; orders are shipped by carrier and cannot be delivered to a post office box. You also can purchase it by calling 1.800.533.1637.
The California License Law & Reference Book is not sold at any CSLB offices.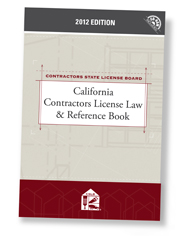 ---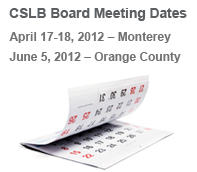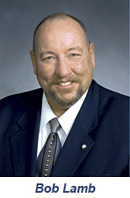 Message From the Board Chair
More than ever, we recognize that contractors are struggling in this economy, so I want to share some new CSLB initiatives that are designed to help you operate your construction business legally and to give you a chance against unfair competition. We always talk about working to "level the playing field" so you, as licensed and law-abiding contractors, can thrive or at least survive in your chosen construction profession. In our current phase of lean government operating budgets, some new—and some strengthened—partnerships with other state agencies will help us do just that.
As you know, the elusive underground economy—those who do not have a contractor license, fail to secure workers' compensation insurance for employees, under-report employee payroll tax, and use other illegal business practices—hurts us all by forcing up insurance premiums while reducing state taxes that are used to protect all Californians. Enforcement offices of several state departments have joined in a renewed effort to improve partnerships among themselves and industry associations that will help curb illegal operations that are hurting our industry.
CSLB has been at the forefront of combating the underground economy, and is a primary member of the new Labor Enforcement Task Force (LETF) that was announced by the Department of Industrial Relations (DIR) in December 2011. (LETF is the next generation of the Economic and Employment Enforcement Coalition.) Joining CSLB and DIR in this new task force are the Employment Development Department, Division of Labor Standards Enforcement, Division of Occupational Safety and Health, and Department of Insurance. Teams from these offices are working closely with industry partners to identify contractors operating in the underground economy and performing targeted inspections at active construction sites. The targeted inspections, instead of random sweeps, are providing more efficient and significant action against illegal contracting.
CSLB is still a member of the Joint Enforcement Strike Force (JESF) (led by the Employment Development Department), which combines regulatory enforcement efforts with the Internal Revenue Service, Franchise Tax Board, Board of Equalization, and other state agencies that share information and partner with CSLB. The 2012 goal is to perform more than 700 tax audits.
Cooperation and assistance provided to CSLB by the construction industry, labor organizations, consumer groups, and law enforcement have been outstanding. These new efforts already are making headway. Teams of enforcement representatives from our LETF and JESF groups have conducted dozens of operations this year that hold unlawful contractors and unlicensed individuals accountable—financially and legally. CSLB also has built close working relationships with local prosecutors to convict these individuals.
Our government partnerships will continue to strengthen enforcement, curb unfair competition, and help you conduct your business as a key element in California's economic recovery.
Respectfully,





Chair