Tweet
Tweet
Disaster Help Center
ATTENTION CONSUMERS
Unscrupulous, unlicensed contractors often prey on victims of natural disasters. It is a felony to contract without a license in a declared disaster area. Consumers can protect themselves by using CSLB's resources to check a contractor's license status and history.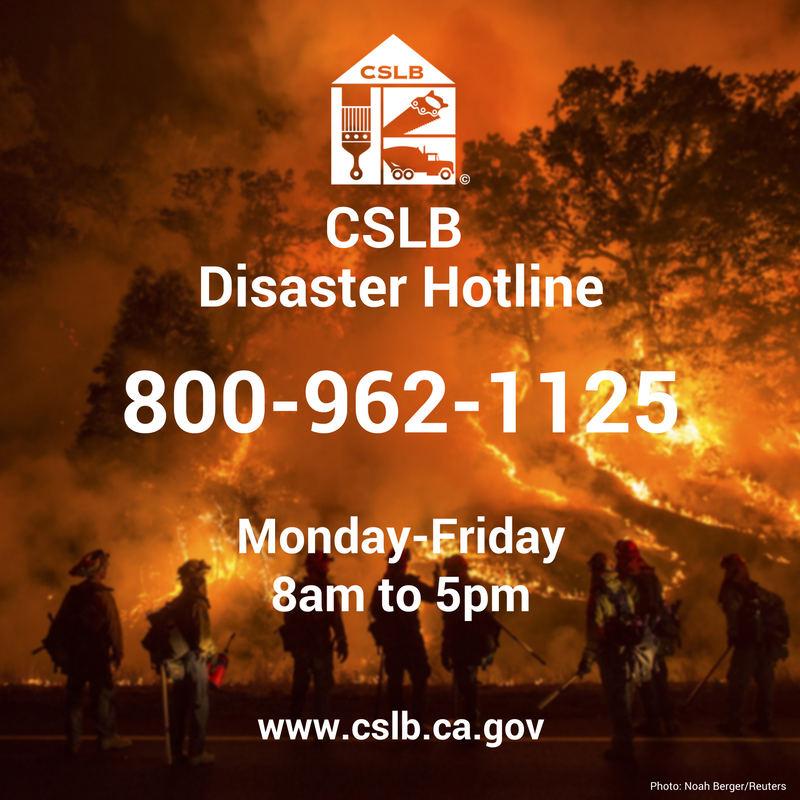 Rebuilding After a Natural Disaster Video
Watch on CSLB's YouTube Channel
ATTENTION CONTRACTORS
CSLB reminds contractors that they must hold a valid California contractor's license, in the appropriate classification, in order to perform most work on homes and other structures damaged or destroyed in natural disasters.
FAQs About Price Gouging in California
Dig Safe's Excavation Safety Guidelines for Wildfire Cleanup
Board Assistance Available for Licensed Contractors Who are Also Disaster Victims
Here are direct links to forms you might need as you move forward with your contracting business after a disaster.
ATTENTION MEDIA
Please warn disaster victims that unlicensed or unscrupulous contractors may try to scam them.

Contractors State License Board Urges Wildfire Victims to Only Hire Licensed Contractors for Repairs or Rebuilding

Download "Rebuilding After a Natural Disaster" Podcast

Download Disaster Tips Video (TRT 7:30)
ATTENTION BUSINESSES
Please print out and place the following sign(s) in your window.
Media Room Popular Pages
Connect with us on Twitter
Like Us on Facebook