Protecting California's Disaster Survivors
In its role protecting California consumers by regulating California's construction industry, CSLB also has a responsibility to protect those whose homes and property are directly affected by natural disasters.
CSLB's post-disaster mission is to help ensure that home and business owners are not victimized by unlicensed or unscrupulous contractors who might try to take advantage of them during the rebuilding process.
2017 will long be remembered as a year when natural disasters changed the face of several California communities. The year began with one of the wettest winters in almost 100 years, officially ending one of the worst droughts in the state's history.
The rain was followed by flooding and fears of a potential catastrophic dam break. Summer and fall brought the most devastating string of wildfires in California history. Finally, in December and January more heavy rain led to deadly mudslides and debris flows.
By the end of the year, disasters were responsible for the deaths of at least 67 people, the destruction of at least 10,700 structures, and damage to another 1,750 structures.
CSLB Post-Disaster Efforts
The 2017 wildfires and 2018 mudslides prompted one of the largest coordinated disaster response efforts in CSLB's almost 90-year history.
CSLB's effort was multi-pronged, with contributions from each division and unit. The sheer number of homes destroyed in Napa and Sonoma counties compelled a good deal of attention, however CSLB's response demonstrated its commitment to serving survivors in every affected county by dedicating staff to make sure adequate support was provided.
Relief Center Staffing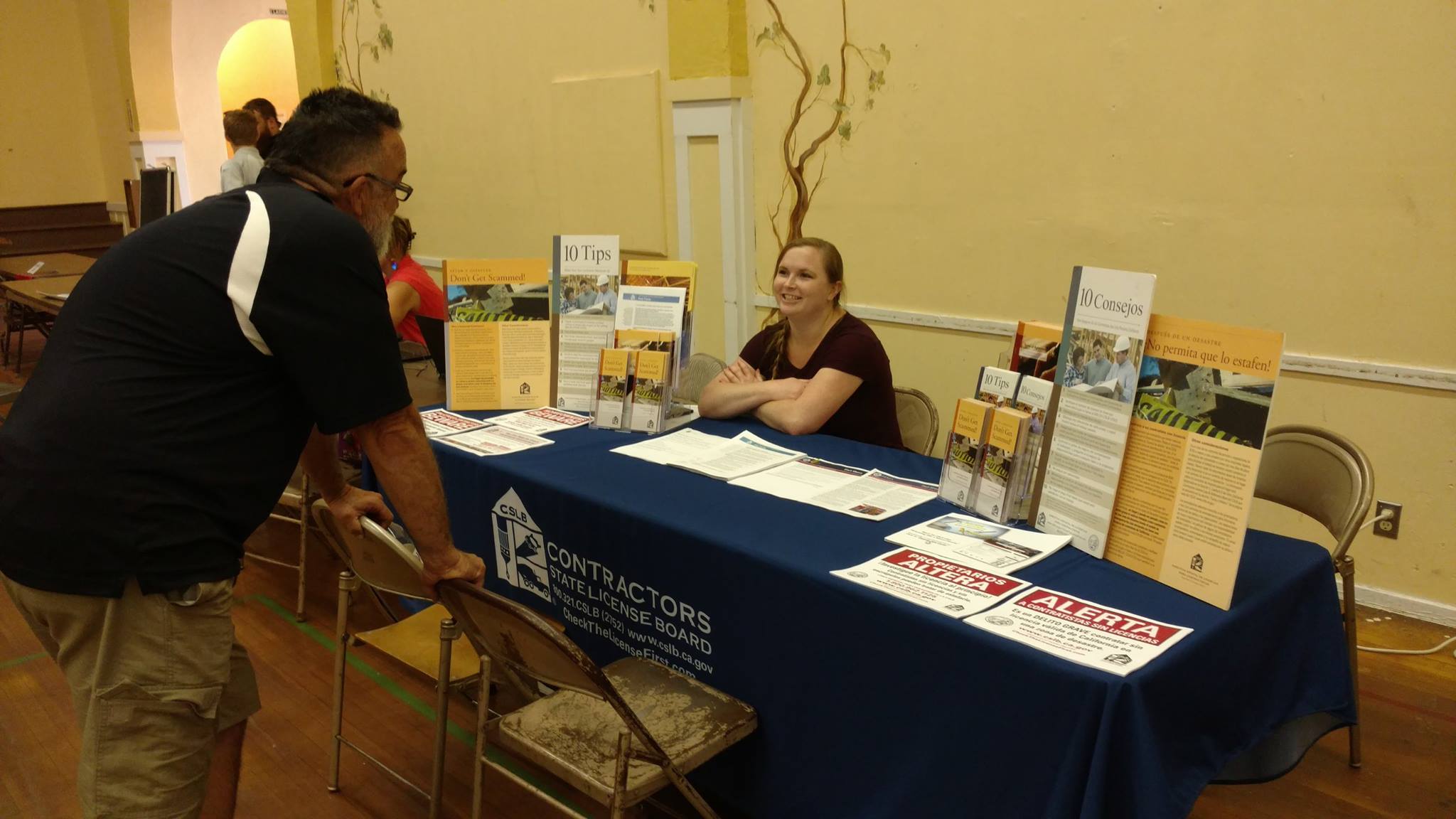 CSLB staffed almost two dozen Local Assistance Centers, established by the Governor's Office of Emergency Services, and Disaster Relief Centers, established by the Federal Emergency Management Agency (FEMA), in 15 different counties (Butte, Lake, Los Angeles, Mariposa, Mendocino, Napa, Nevada, Orange, San Diego, Santa Barbara, Santa Clara, Sonoma, Trinity, Ventura, and Yuba).
These centers provide a single facility at which individuals, families, and businesses can access a variety of disaster assistance programs and services. In some instances (Butte, Los Angeles, and Mariposa counties) multiple disasters during the year necessitated the opening of multiple centers.
CSLB distributed thousands of pages of educational information, which included those produced by CSLB, the California Architects Board, and FEMA. The primary consumer education messages encouraged people to only hire licensed contractors for rebuilding work and to be aware that unlicensed or unscrupulous contractors may try to perpetrate a scam. CSLB staff also posted signs warning unlicensed contractors not to work in the fire zones.
Wildfire Workshops For Contractors and Fire Survivors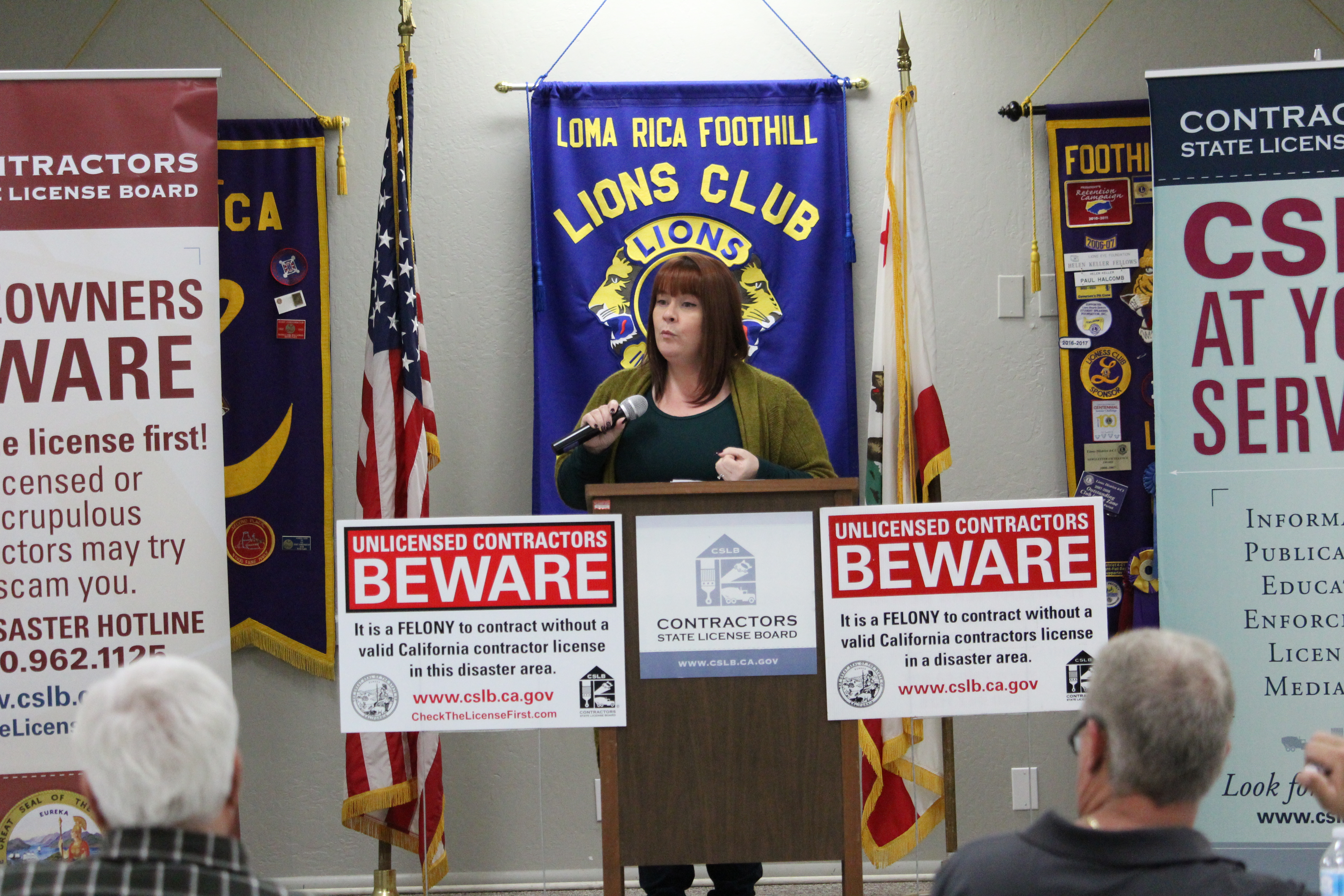 CSLB has begun conducting two distinct wildfire rebuilding workshops in the various fire areas: one for fire survivors and one for contractors who plan to work on the rebuilding effort. Board members have joined CSLB staff to present important information at these workshops. CSLB is also assisted by partner agencies, including the California Department of Insurance, the California Architects Board, the State Compensation Insurance Fund, and FEMA.
The fire survivor workshop includes essential consumer protection tips, information about contractor licensing and other requirements, insurance issues, how to work with an architect, and an update on the rebuild provided by the local building department.
The contractor workshop includes a building department update on the local rebuild and any special rules established for plan approvals and inspections. Licensing requirements are also covered, as are bonds and insurance, how to obtain a workers' compensation policy, contract requirements, how to prevent complaints, and how the selection of building materials and choice of building methods can help prevent future disasters.