---
Licensees Can Pay for Renewal, Reactivation
by Credit Card
You can now pay for re-exams, license and HIS renewals, and reactivation using Visa, MasterCard, Discover and American Express at CSLB Headquarters in Sacramento.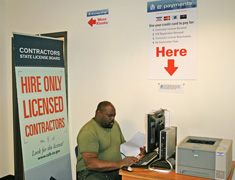 The new feature began in late August and is "phase one" of the Board's electronic payment project. San Mateo electrical contractor Freeman Hollands was the first licensee to take advantage of the new payment options. Mr. Hollands indicated it was simple and convenient to use with guidance from the computer prompts. Written instructions are also available at the front counter.
"This has been a long time coming and we're thrilled that all of the IT staff time and effort has paid off with such a seamless first transaction," said Registrar Steve Sands.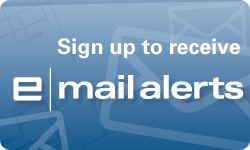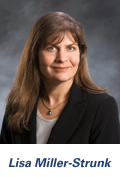 A Message From the Board Chair
Construction is one of the most complex industries in California. CSLB has more than 40 different licensing classifications, along with almost 30 limited specialty classifications. With so many different variables and moving parts, regulating the state's construction industry does have challenges. One of the biggest challenges is keeping up with trends and changes in technology. For example, right now the Board is taking a close look at the quickly evolving solar industry and which license classifications are qualified to perform solar installations.
The Board is also responsible for ensuring that all of its 45 different licensing exams are updated to keep up with times. That process for each classification includes conducting an extensive occupational analysis and developing a new exam every five to seven years. Classifications currently undergoing an occupational analysis or getting a new exam include C-8 Concrete, C-27 Landscaping, C-29 Masonry, and C-53 Swimming Pool. A new Law and Business exam is also being developed.
Another challenge is one that is a byproduct of the economy. The construction industry has been hit particularly hard. But that does not justify breaking California's business, health, safety, or contracting laws. While I believe the vast majority of our more than 300,000 licensed contractors operate within the law, those who do skirt the laws make it difficult, if not impossible, for the law-abiding contractor to compete.
One example is the contractor who pays employees in cash—under the table—and who doesn't provide workers' compensation insurance. Another is the contractor who either pays or receives inducements, sometimes known as "kick-backs" or "referral fees," as a way to secure contracts or projects. A third is the contractor who doesn't pull building permits and bypasses the required inspections.
CSLB's Enforcement division is working closely with industry groups and its partner law enforcement agencies to prosecute violators. A new tool CSLB will aggressively use is the result of landmark legislation that goes into effect January 1, 2011. Senate Bill 1254 will give CSLB the authority to issue a "stop work" order for any licensed contractor or unlicensed operator who fails to carry workers' compensation for his or her employees. The stop work order will take effect immediately after it's issued. Violators could serve up to 60 days in jail and/or be issued a $10,000 fine. The new law will also allow CSLB to more than triple its number of sworn peace officers.
When CSLB, its licensees, and the industry team to address significant issues, such as the ones I mentioned above, we all benefit and help drive California's economy.
Respectfully,

Lisa Miller-Strunk
> Members of the CSLB Board <