Tweet
CSLB Sting Goes After Illegal Contracting in SoCal High Desert
Seven cited in Hesperia after bidding on improvement projects that require a state license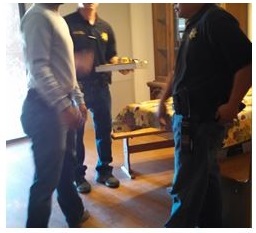 SACRAMENTO – The city of Hesperia in the southland's High Desert region was the latest target for the statewide team of Contractors State License Board (CSLB) investigators that combs California looking to stop illegal contracting activity. As usual, investigators had no problem locating persons willing to do unlicensed contracting work, citing seven on a misdemeanor charges during a one-day sting operation on June 16, 2016.
CSLB's Statewide Investigative Fraud Team (SWIFT) conducted the sting at a house near Victor Valley College with the assistance of investigators from the San Bernardino County District Attorney's Office. A contact list of suspected unlicensed contractors in the area was compiled from business cards left at area hardware stores, and online advertising sites, with an emphasis on those offering to perform home improvements that typically exceed the $500 limit for labor and/or materials before a state contractor license is required.
Quotes were sought for concrete work, stucco, flooring, and painting. Nine of the 10 persons contacted to submit bids showed up at the house, turning in estimates that ranged from $1,800 for painting to $6,500, the highest amount received, to add on to an existing concrete driveway.
Once the unlicensed contractors turned in a bid higher than the $500 state cap, they were told that they had been caught in a CSLB sting operation, had violated state law, and were issued citations. Seven persons were cited for contracting without a state license (Business and Professions Code (BPC) section (§) 7028) and illegal advertising (BPC §7027.1) for failing to state in their advertising that they were not licensed.
CSLB Registrar Cindi Christenson said consumers should be wary when an advertisement for home improvement services does not include a California contractor license number.
"It's the law that licensed contractors must include their CSLB license number in all ads," Christenson said. "In addition, unlicensed contractors have to state in their ad that they do not hold a contractor license."
CSLB regularly stages sting operations throughout the state to crack down on unlicensed contracting, which feeds a multi-billion-dollar underground economy in California, endangers the public, and creates unfair business competition for licensed, law-abiding contractors.
Those cited are scheduled to appear 8 a.m. September 29, 2016, in San Bernardino County Superior Court, 14455 Civic Drive, Victorville, CA 92392 (MAP).
NOTE: All suspects are presumed innocent until their case is resolved.
HESPERIA

SUSPECT NAME
CITY OF RESIDENCE
LICENSE CLASSIFICATION
ALLEGED VIOLATION
Joseph Catlin
Kolor Krazy Artwork
Apple Valley
C-33 – Painting and Decorating
Contracting without a license,
Illegal advertising
Fernando Diaz-Orozco
Fernando Handyman Services
Victorville
C-35 – Lathing and Plastering
Contracting without a license,
Illegal advertising
Alex Gutierrez Jr.
Alex Custom Painting
Fontana
C-33 – Painting and Decorating
Contracting without a license,
Illegal advertising
Mynor Rolando Avalos
Mynors Home Improvements
Barstow
C-54 – Ceramic and Mosaic Tile
Contracting without a license,
Illegal advertising
Clint Little
Little Flooring
Hesperia
C-15 – Flooring and Floor
Covering
Contracting without a license,
Illegal advertising
Jose Lopez Sanchez
High Desert Affordable Landscaping
Hesperia
C-8 – Concrete
Contracting without a license,
Illegal advertising
Luis Felipe Herrera
Herrera Painting
Victorville
C-33 – Painting and Decorating
Contracting without a license,
Illegal advertising
Visit CSLB's website for more tips about how to hire a contractor and to sign up for CSLB Email Alerts.
The Contractors State License Board operates under the umbrella of the California Department of Consumer Affairs. CSLB licenses and regulates almost 290,000 contractors in California, and is regarded as one of the leading consumer protection agencies in the United States. In fiscal year 2014-15, CSLB helped recover nearly $68 million in ordered restitution for consumers.
Archives: 2019 | 2018 | 2017 | 2016 | 2015 | 2014 | 2013 | 2012 | Releases 2011 and Earlier