Tweet
CSLB Sweeps Through Valley Fire Remains, Makes Felony Arrest
Agencies joined forces in Lake County during a targeted sweep for unlicensed contractors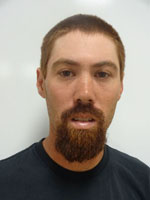 SACRAMENTO – To protect those devastated by the recent Valley Fire from becoming victimized twice, the Contractors State License Board(CSLB) and other law enforcement partners conducted a compliance sweep to catch unlicensed contractors in Lake County on Thursday, November 19, 2015. Sweeps are often conducted following disasters where homes and/or businesses have been destroyed or damaged as part of efforts by CSLB's Statewide Investigative Fraud Team (SWIFT) to crack down on those who would prey on fire victims.
During the multi-agency operation, investigators searched for people working without a contractor license and/or workers' compensation insurance. As a result, Matthew Jonathan George, 28, was arrested on a felony charge of contracting without a license in a disaster area (Business and Professions Code (BPC) section 7028.16). A licensed contractor reported George's alleged illegal activity to CSLB several days before the sweep took place. Evidence confiscated during George's arrest suggested he had 10 pending contracts from Valley Fire victims worth a total of $100,000. Investigators also saw several yard signs posted in the area advertising George's services illegally. State law requires unlicensed contractors to state in all advertising that they are not licensed. The suspect received a citation for the misdemeanor charge of illegal advertising (Business and Professions Code section 7027.1).
Contracting without a license in a disaster area is a felony and has a potential penalty of up to three years in state prison and a fine of up to $10,000. "It is unfortunate when unscrupulous people show up in disaster areas to try and take advantage of people when they are vulnerable," said CSLB Registrar Cindi A. Christenson. "We are doing whatever we can to help protect these victims, so unlicensed contractors should know we will be looking for them."
Three teams, consisting of SWIFT investigators, Lake County District Attorney investigators, and California Department of Insurance investigators, targeted different parts of the disaster area, including Cobb Mountain, Middletown, and the Hidden Valley area. The Lake County Sheriff's Department provided support for investigators during the operation. The three teams collectively visited more than 100 sites looking for illegal activity.
As a condition of licensure, contractors must carry workers' compensation for all employees except for themselves if they certify they have none. This coverage insures that if a worker is injured on the home owner's property, the consumer is not held liable.
CSLB also used the sweep as an opportunity to educate homeowners about the importance of checking out contractors before hiring them, and let licensees know where they can report suspected unlicensed activity if they see it. CSLB's free publication "After a Disaster, Don't Get Scammed!" includes tips on rebuilding such as:
Don't rush into repairs, no matter how badly they are needed.
Get at least three bids. Don't hire the first contractor who comes along.
Be cautious about door-to-door offers of repair services and flyers or business cards that are left at your property.
Ask friends, family, and associates for recommendations about contractors they have hired.
Never pay in cash.
Even for the smallest job, get proof that the person you are dealing with has a contractor license for the type of work that needs to be done.
Get a written contract that details every aspect of the work plan.
Visit CSLB's Disaster Help Center for more tips on rebuilding after a natural disaster.
CSLB encourages consumers to always "Check the License First" by visiting www.cslb.ca.gov or calling CSLB's toll-free automated line 800.321.CSLB (2752). Also, visit CSLB's website for tips about how to hire a contractor and to sign up for CSLB email alerts.
The Contractors State License Board operates under the umbrella of the California Department of Consumer Affairs. CSLB licenses and regulates about 285,000 contractors in California, and is regarded as one of the leading consumer protection agencies in the United States. In fiscal year 2014-15, CSLB helped recover nearly $68 million in ordered restitution for consumers.
Media Downloads
B-Roll Video
Still Photos
Archives: 2019 | 2018 | 2017 | 2016 | 2015 | 2014 | 2013 | 2012 | Releases 2011 and Earlier