Tweet
Contractors State License Board Investigators Make What May Be Easiest Arrest Ever of Unlicensed Contractor
Suspect does everything but bring handcuffs to impromptu sting operation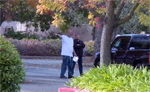 SACRAMENTO – The Contractors State License Board's (CSLB) Statewide Investigative Fraud Team (SWIFT) conducts sting operations all over California. It's doubtful, though, that investigators have been ever had a situation where they could literally walk to a sting and arrest an unlicensed contracting suspect. That's exactly what happened Tuesday.
It started in the late morning when multiple fax machines at CSLB Headquarters in Sacramento started buzzing, receiving a mass mailing advertisement for a paving and roofing company.
A SWIFT investigator called the phone number on the ad and told the person he was purchasing an office building and wanted to seal-coat and stripe the parking lot around it. The suspect, Michael Anthony Nicholas, 30, of West Sacramento, agreed to come out quickly and provide a bid. What the suspect didn't realize is that the building and parking lot are directly behind and adjacent to CSLB Headquarters.
Investigators watched from their desks as the suspect arrived and repeatedly drove around the parking lot to gauge the size of the job.
At the proposed meeting time, the CSLB investigator got in a vehicle and drove the 200 yards from the office to meet Nicholas and get his bid for the work. Nicholas told the investigator the job would cost $19,000, and he would need a down payment of $4,500 to get started. At that point investigators from the Sacramento County District Attorney's Office, who assisted in the operation, drove up and placed Nicholas under arrest.
Nicholas is expected to face a misdemeanor charge of contracting without a license (Business and Professions Code section (BPC) 7028) In California, all construction jobs valued at $500 or more in labor and materials must be done by a company with a state-issued contractor's license. The penalty for a first conviction is up to six months in jail and/or a fine of up to $5,000.
He may also face a charge of illegal advertising (BPC 7027.1). California law requires contractors to place their CSLB license number in all print, broadcast, and online advertisements. Those without a license can advertise to perform jobs valued at less than $500, but the ad must state that they are not a licensed contractor. The penalty is a fine of $700 to $1,000.
"It's easy to chuckle about how this arrest happened, but we have to remember we're talking about serious crimes that can easily cost consumers thousands of dollars, if not more," said CSLB Registrar Cindi Christenson. "It's vital that consumers only hire licensed professionals for work in and around their homes or businesses."
After receiving a Notice to Appear in court, Nicholas was allowed to leave. He is scheduled to answer the charges in Sacramento County Superior Court at 8:30 a.m. on Thursday, December 3, 2015. CSLB urges consumers to follow these tips before hiring anyone to work in or around their home or business:
Hire only licensed contractors and ask to see their license and a photo ID to verify their identity.
Always check the license number on CSLB's website at www.cslb.ca.gov or www.CheckTheLicenseFirst.com to make sure the license is in good standing, and that a workers' compensation policy is in place if the contractor has employees.
Don't pay more than 10 percent or $1,000, whichever is less, as a down payment.
Don't pay in cash, and don't let payments get ahead of the work.
Get at least three bids, check references, and get a written contract.
The Contractors State License Board operates under the umbrella of the California Department of Consumer Affairs. CSLB licenses and regulates about 285,000 contractors in California, and is regarded as one of the leading consumer protection agencies in the United States. In fiscal year 2014-15, CSLB helped recover nearly $68 million in ordered restitution for consumers.
Media Downloads
Still Photos & Faxed Ad
Archives: 2019 | 2018 | 2017 | 2016 | 2015 | 2014 | 2013 | 2012 | Releases 2011 and Earlier