Tweet
Unlicensed Contractors Face Multiple Criminal Charges After CSLB Sting in Santa Cruz
One suspect caught with drugs, another on parole, several without driver licenses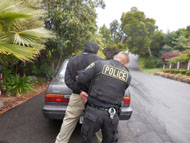 SACRAMENTO – A two-day undercover sting operation conducted in Santa Cruz by the Contractors State License Board (CSLB) illustrates the risks consumers take when they allow unlicensed contractors into their homes. Of the 14 people cited for illegal contracting during the May 6-7, 2015, operation, one was arrested for having methamphetamine and drug paraphernalia.
Investigators from CSLB's Statewide Investigative Fraud Team (SWIFT) and the Santa Cruz County District Attorney's Office held the operation at a single-family home near Highway 17. SWIFT investigators used craigslist.org, newspaper advertisements, and business cards to locate suspected illegal contractors in the area. Suspects were invited to visit the home to submit bids for jobs that included flooring, painting and landscaping.
After being caught for unlicensed contracting, one suspect told CSLB investigators he was dropped off, even though there was a vehicle parked in front of the house. Upon searching that vehicle, which was registered to the suspect, officers found drugs and other paraphernalia. He was cited for possession of methamphetamine.
Four other suspects, including one on parole, drove to the sting site with either a suspended or expired driver license.
"It's disturbing, but not surprising, when unlicensed people who have had past run-ins with the law turn up at our stings," said CSLB Registrar Cindi Christenson. "Some of the people we catch have serious criminal records, and are not the kind of people you want around your family or the valuables in your home."
The bids ranged from $775 for a granite counter top to $9,000 for painting and flooring. A state-issued contractor license is required for any home improvement job that is $500 or more in combined labor and material costs (Business and Professions Code section 7028). First-conviction penalties for contracting without a license include up to six months in jail and/or up to $5,000 in fines. A second conviction can carry a mandatory sentence of up to 90 days in jail. Penalties are more severe with each successive violation.
Eleven of the suspects received citations for the misdemeanor charge of illegal advertising (Business and Professions Code section 7027.1). State law requires unlicensed contractors to state in all advertising that they are not licensed.
The 14 offenders were ordered to answer to the misdemeanor charges on either July 1 or 2, 2015, at 8:30 a.m. in Santa Cruz County Superior Court, 701 Ocean Street, Room 120, Santa Cruz, CA 95060. (MAP)
CSLB encourages consumers to always "Check The License First" by visiting www.cslb.ca.gov or calling its toll-free automated line: 800.321.CSLB (2752). Also, visit CSLB's website for tips about how to hire a contractor and to sign up for CSLB Email Alerts.
The Contractors State License Board operates under the umbrella of the California Department of Consumer Affairs. CSLB licenses and regulates about 290,000 contractors in California, and is regarded as one of the leading consumer protection agencies in the United States. In fiscal year 2013-14, CSLB helped recover nearly $51 million in ordered restitution for consumers.
Archives: 2019 | 2018 | 2017 | 2016 | 2015 | 2014 | 2013 | 2012 | Releases 2011 and Earlier