Tweet
Jail Time Added to One of CSLB's Convicted "Most Wanted"
Unlicensed Contractor pleads guilty to three more grant theft counts, sentenced to two more years in jail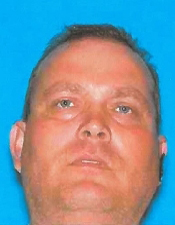 SACRAMENTO – Years of construction fraud and grand theft by scamming consumers out of thousands of dollars for asphalt driveway paving work will keep Alexander Pike Mitchell behind bars at least two additional years. Mitchell, who has a history of contracting without a license and abandoning jobs once he's secured a down payment, pled guilty to three additional felony grand theft counts (Penal Code §487a) with a Harvey Waiver* on all dismissed accounts in Riverside Superior Court on July 24, 2015.
The Contractors State License Board (CSLB) added Mitchell to its Most Wanted List in April 2013 after the San Diego County District Attorney's Office issued a warrant for his arrest that included five counts of grand theft, diversion of funds, and two counts of elder abuse. Mitchell was suspected of scamming consumers in Santa Clara, Santa Cruz, Riverside, and San Diego counties.
On June 17, 2013, Mitchell pled guilty to two counts of grand theft in San Diego County Superior Court and agreed to pay victim restitution. He received a four-year sentence with a 50/50 split of the time, meaning he must serve two years in San Diego County Jail and two years on mandatory supervision. He was ordered to pay $9,300 in victim restitution in that case.
Shortly after that ruling, an additional 40-month state prison sentence was added to the term he already was serving for theft by false pretenses, operating without a contractor license with prior convictions, and a workers' compensation insurance violation. Overall, Mitchell has been sentenced to serve a total of nine years and four months for all of his convictions.
"CSLB investigators find unscrupulous people like Alex Pike Mitchell every day," said CSLB Registrar Cindi Christenson. "This is why we encourage everyone to check our website or call our toll-free line to make sure any contractor you're considering is licensed and in good standing with CSLB."
CSLB's Most Wanted List was created as an added measure to protect California consumers from dishonest operators. It only takes a few minutes to "Check The License First" by visiting www.cslb.ca.gov or calling CSLB's toll-free information line: 800.321.CSLB (2752).
Also, visit CSLB's website for tips about how to hire a contractor and to sign up for CSLB Email Alerts.
The Contractors State License Board operates under the umbrella of the California Department of Consumer Affairs. CSLB licenses and regulates 290,000 contractors in California, and is regarded as one of the leading consumer protection agencies in the United States. In fiscal year 2014-15, CSLB helped recover nearly $68 million in ordered restitution for consumers.
Archives: 2019 | 2018 | 2017 | 2016 | 2015 | 2014 | 2013 | 2012 | Releases 2011 and Earlier