Tweet
CSLB Sting Snares 12 Illegal Contracting Suspects in San Mateo County
CSLB Sting Snares 12 Illegal Contracting Suspects in San Mateo County
SACRAMENTO — A dozen persons acting as contractors were arrested last week by the Contractors State License Board's (CSLB) Statewide Investigative Fraud Team (SWIFT). The undercover sting took place May 22, 2014, at a commercial property in Belmont. Officers with the Belmont Police Department and the San Mateo County District Attorney's Office provided support during the nine-hour operation.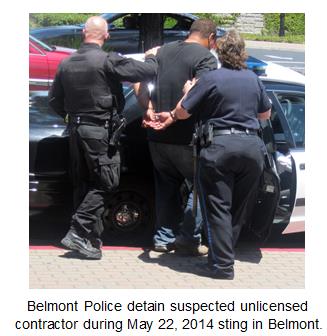 SWIFT members, posing as property owners, asked suspects to bid on painting, drywall, and flooring projects. The bids ranged from $1,000 to $14,000.

An East Palo Alto man posing as a licensed contractor was cited by CSLB and transported to San Mateo County Jail on an unrelated $5,000 warrant for driving with a suspended license.

All 12 suspects were cited for contracting without a license (Business and Professions Code section 7028(a)). In California, all home improvement jobs valued at $500 or more (combined labor and material costs) must be conducted by a company or person with a CSLB-issued license.

In addition, 10 of the 12 suspects were cited on a misdemeanor charge of illegal advertising (Business and Professions Code section 7027.1). State law requires contractors to place their license number on all print, broadcast, and online advertisements. Those without a license can advertise for jobs valued at less than $500, but the ad must state that they are not a licensed contractor.

Seven suspects were contacted through ads on craigslist.org, while the remaining five were called from business cards and newspaper ads.

"Don't rush your spring clean-up, only to ruin your summer fixing someone's bad work. Check the contractor license. Get three bids," CSLB Registrar Steve Sands said. "Hiring non-licensed people when you think you're going to save a few bucks is simply not worth the risk to your family and property."

Individuals who received Notices to Appear must appear at 9 a.m. on July 15, 2014, in San Mateo County Superior Court, 400 County Center, Redwood City, CA (Map) to answer to illegal contracting charges.
The Contractors State License Board operates under the umbrella of the California Department of Consumer Affairs. More information and publications about hiring contractors are available on the CSLB website or by calling 800-321-CSLB (2752). CSLB licenses and regulates California's 300,000 contractors, and is regarded as one of the leading consumer protection agencies in the United States. In fiscal year 2012-13, CSLB helped recover nearly $44 million in ordered restitution for consumers.
Archives: 2019 | 2018 | 2017 | 2016 | 2015 | 2014 | 2013 | 2012 | Releases 2011 and Earlier