Tweet
Another Subcontractor on Large Southern California Project Told To Halt Work, Fined for Not Having Contractors License
Tip leads Contractors State License Board and
SACRAMENTO — For the second time in one month, a drywall subcontractor based in Canada has been heavily fined and ordered to halt work on a large construction project in Southern California, this time in downtown Los Angeles, after investigators from the California Contractors State License Board (CSLB) and California Department of Industrial Relations (DLSE) found the company was working without a California contractor license.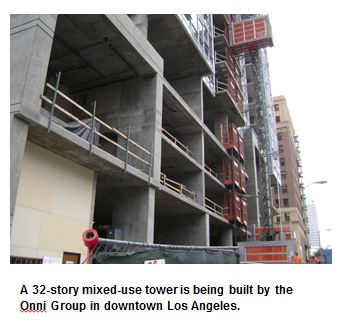 Nova Drywall Systems Inc., based in Vancouver, British Columbia, has been ordered to pay almost $200,000 in fines from CSLB and DLSE after a May 7 inspection of a 32-story tower going up at 888 South Olive Street. The $100 million apartment and retail center is being built by the Onni Group, a Canadian developer.
Acting on a tip, CSLB and DLSE investigators made an unannounced visit to the construction site on May 7. An inspection revealed that Nova Drywall does not have a contractor license from CSLB for the drywall work being done by its 28 employees on the project since January. The subcontract is worth $5.5 million.
CSLB records show that the project's primary contractor, Onni Contracting California, does have a valid California contractor license (976929). Nova Drywall applied for a CSLB license last January, but has not yet completed the licensing process.
After the site inspection, DLSE, also known as the Labor Commissioner's Office, cited Nova Drywall for performing services without a valid state contractor license. The citation includes a $180,400 fine to Nova based on when it started work and the number of its employees on the project.
CSLB levied a $15,000 civil penalty, its maximum, against Nova Drywall for acting in the capacity of a contractor without a license (Business and Professions Code 7028.7).
Onni Contracting California, the primary contractor, was fined $10,800 by DSLE for contracting with an unlicensed contractor (Business and Professions Code 7118). Onni may also face CSLB administrative action and a fine for contracting with a non-licensee.
"To perform contracting work in California, a company must be licensed by CSLB," said CSLB Registrar Steve Sands. "This company should not have been working until its license was in place."
"Those who hire contractors are obligated to make sure they are dealing with contractors who play by the rules. If they do not, we will work with CSLB and other law enforcement to level the playing field," said California Labor Commissioner Julie A. Su.
In April, work on the drywall portion of the $150 million, 45-story Pinnacle Towers construction project in downtown San Diego was ordered stopped after CSLB determined the subcontractor hired for the work, Clayton Wall & Ceiling Systems Inc., was not properly licensed in California. DLSE also participated on that investigation.
The Contractors State License Board operates under the umbrella of the California Department of Consumer Affairs. More information and publications about hiring contractors are available on the CSLB website or by calling 800-321-CSLB (2752). CSLB licenses and regulates California's 300,000 contractors, and is regarded as one of the leading consumer protection agencies in the United States. In fiscal year 2012-13, CSLB helped recover nearly $44 million in ordered restitution for consumers.
Archives: 2019 | 2018 | 2017 | 2016 | 2015 | 2014 | 2013 | 2012 | Releases 2011 and Earlier