Tweet
CSLB Sting in Seaside Drives Home the Importance of Verifying a Contractor License Number
Several illegal operators try to pass off credentials that belong to others or are fraudulent
SACRAMENTO — A recent California Contractors State License Board (CSLB) sting operation in Seaside provided a cautionary tale for consumers: if someone claims to have California contractor license number, verify it.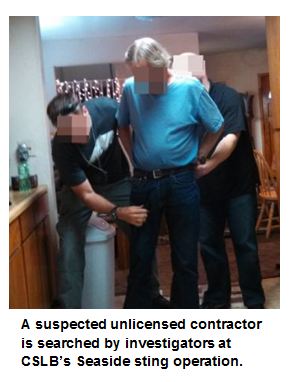 Of the 12 people arrested during the two-day operation May 28 and 29, 2014, four were cited for displaying license numbers that were bogus or did not belong to them (Business and Professions Code section 7027.3). That's on top of the illegal contracting charges that all of the suspects will face as a result of the sting conducted by CSLB's Statewide Investigative Fraud Team (SWIFT).
"This is exactly why we stress the importance of looking on CSLB's website to confirm license numbers if you're thinking of hiring someone," CSLB Registrar Steve Sands said. "Unlicensed operators are hoping you won't check the numbers on an official-looking business card or flier."
SWIFT investigators were assisted by the Monterey County District Attorney's Office and Seaside Police Department during the operation, held at a two-story, single-family home. Investigators posed as homeowners and asked suspects to bid on projects that included plumbing, landscaping, painting, tile, fencing, and plumbing work. Most of the operators were contacted through ads on craigslist, the online services directory.
All suspects face misdemeanor charges of contracting without a state license (Business and Professions Code section 7028(a)). In California, all home improvement jobs valued at $500 or more (combined labor and material costs) must be conducted by a company or person with a CSLB-issued license.
Nine of the 12 suspects were cited for misdemeanor illegal advertising (Business and Professions Code section 7027.1). State law requires contractors to place their license number on all print, broadcast, and online advertisements. Those without a license can advertise for jobs valued at less than $500, but the ad must state that they are not a licensed contractor.
Things went from bad to worse for four suspects when background checks conducted at the sting house revealed they were driving on suspended or revoked licenses. Each had to find another way home, and one was arrested by Seaside Police for outstanding traffic warrants.
One of those cited managed to find some humor in his situation, investigators reported. After taking measurements, investigators shared pastry they had brought before telling him he had been caught in a sting operation; he responded that he should have known better because of the free doughnuts.
Suspects were ordered to appear at 8:15 a.m. on July 11, 2014, in Monterey County Superior Court, 230 Church Street, Salinas, CA (Map) to answer to the various illegal contracting charges.
CSLB encourages consumers to always "Check the License First" by visiting www.cslb.ca.gov or calling CSLB's toll-free automated line: 800.321.CSLB (2757).
The California Contractors State License Board operates under the umbrella of the Department of Consumer Affairs. CSLB licenses and regulates California's 288,000 contractors, and is regarded as one of the leading consumer protection agencies in the United States. In fiscal year 2012-13, CSLB helped recover nearly $44 million in ordered restitution for consumers.
Archives: 2019 | 2018 | 2017 | 2016 | 2015 | 2014 | 2013 | 2012 | Releases 2011 and Earlier