Tweet
Contractors Board and Local District Attorneys Warn Unlicensed Contractors to Stay Away from Sand Fire Burn Areas
SACRAMENTO — The California Contractors State License Board and the El Dorado and Amador County District Attorneys' Offices have joined forces to prevent unlicensed contractors from causing further harm to victims of the Sand Fire that erupted on July 25, 2014. The blaze is nearly contained after destroying more than 4,000 acres and dozens of structures. Opportunists who prey on disaster victims in the rural El Dorado or Amador County areas during rebuilding efforts could find themselves facing felony charges if they are not licensed to perform the reconstruction work, or violate any other state contracting laws.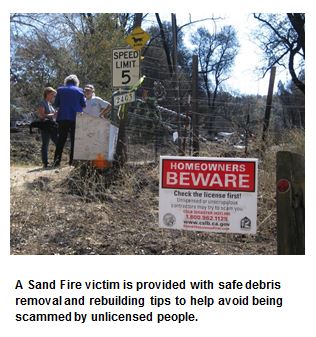 "Consumer protection efforts by CSLB's Statewide Investigative Fraud Team (SWIFT) are stepped up in post-disaster areas to help shield people from being victimized a second time by illegal contracting," said CSLB Registrar Steve Sands. "It only takes a minute to check our website to find out if a contractor is licensed and in good standing with CSLB."
"The El Dorado County District Attorney's Office is committed to protecting the citizens of our community from contractor fraud and scams," said El Dorado County District Attorney Vern Pierson.
Amador County District Attorney Todd Riebe agreed. "Both of our offices are committed to prevention, enforcement, and aggressive prosecution against those who victimize vulnerable residents like those who lost everything in the Sand Fire."
Contractors and debris removal operators all must be CSLB-licensed to perform repairs or improvements valued at $500 or more in combined labor and material costs (Business and Professions Code section 7028(a)).
Residents also should be vigilant when it comes to individuals who offer to act as a building "consultant" during owner-builder projects. Anyone who offers to bid, supervise, and/or schedule contractors or laborers for a project is considered to be a contractor and must be state-licensed (Business and Professions Code section 7026.1).
CSLB encourages consumers to always "Check The License First" by visiting www.cslb.ca.gov or calling CSLB's toll-free automated line: 800.321.CSLB (2757). Also, visit CSLB's website for tips about how to hire a contractor and to sign up for CSLB Email Alerts. CSLB's "After a Disaster, Don't Get Scammed" brochure also provides helpful information.
The California Contractors State License Board operates under the umbrella of the Department of Consumer Affairs. CSLB licenses and regulates California's 288,000 contractors, and is regarded as one of the leading consumer protection agencies in the United States. In fiscal year 2012-13, CSLB helped recover nearly $51 million in ordered restitution for consumers.
Archives: 2019 | 2018 | 2017 | 2016 | 2015 | 2014 | 2013 | 2012 | Releases 2011 and Earlier