Tweet
Ragtag Assortment of Suspects Arrested in Pioneer CSLB Undercover Sting
Six cited include registered sex offender and two repeat offenders
SACRAMENTO — A half-dozen men illegally operating as contractors were cited during an undercover sting operation conducted in Pioneer on February 25, 2014, by the Contractors State License Board (CSLB) with assistance from Amador County District Attorney Investigators Amador County District Attorney investigators, and the Department of Insurance.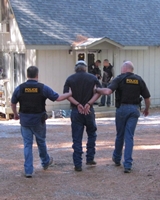 During the eight-hour sting, officers held one suspect at gunpoint after he refused to cooperate, ran from investigators, locked himself in his vehicle, and made threatening movements. Another suspect was found to be on probation for making terrorists threats, while still another suspect was found to have prior criminal history as a sex offender. Two suspects had been arrested in previous CSLB stings.
"Inviting an unlicensed contractor into your home is like playing with a stick of dynamite, definitely not worth the risk," CSLB Registrar Steve Sands said. "You always should check CSLB's website to see if the person bidding on your job has an active contractor license that is in good standing."
CSLB's Statewide Investigative Fraud Team (SWIFT) held the operation at a single-family home in the Gold Country town of Pioneer, along Highway 88. Investigators requested bids for deck repair, landscaping, and exterior painting. High bids received during the sting were $6,000 for deck repair, and a $4,200 bid for exterior paint. Suspected unlicensed operators were found advertising on flyers, newspapers, and online bulletin boards, including craigslist.org.
All six suspects received misdemeanor citations for contracting without a license (Business and Professions Code section 7028). In California, all home improvement jobs valued at $500 or more (combined labor and material costs) must be conducted by a company or person with a CSLB-issued license. First-conviction penalties for contracting without a license include up to six months in jail and/or up to $5,000 in fines. Penalties escalate with successive violations.
Four suspects were cited on a misdemeanor charge of illegal advertising (Business and Professions Code section 7027.1). State law requires contractors to place their license number in all print, broadcast, and online advertisements. Those without a license can advertise for jobs valued at less than $500, but the ad must state that they are not a licensed contractor.
Suspects receiving notices to appear (NTAs) are scheduled for arraignment at 8:00 a.m. on April 7, 2014, in Amador County Superior Court, 500 Argonaut Lane, Jackson CA 95642 (Map).
SUSPECT NAME
CITY OF RESIDENCE
LICENSE CLASSIFICATION
ALLEGED VIOLATIONS

Don A. Sternick
Sutter Creek

Contracting without a license,
Illegal advertising

Armand Leo Chournard
West Point

Contracting without a license,
Illegal advertising

Gary Jack Shroyer
Pioneer

Contracting without a license

Michael Joseph Vasquez
Jamestown

Contracting without a license,
Illegal advertising

Matthew Brian Ramos
Jamestown

Contracting without a license

Robert Darin Kintigh
Cool

Contracting without a license,
Illegal advertising
CSLB encourages consumers to always "Check The License First" by visiting www.cslb.ca.gov or calling CSLB's toll-free automated line 800.321.CSLB (2752). Also, visit CSLB's website for tips about how to hire a contractor and to sign up for CSLB Email Alerts.
The Contractors State License Board operates under the umbrella of the California California Department of Consumer Affairs. More information and publications about hiring contractors are available on the CSLB website or by calling 800-321-CSLB (2752). CSLB licenses and regulates California's 300,000 contractors, and is regarded as one of the leading consumer protection agencies in the United States. In fiscal year 2012-13, CSLB helped recover nearly $44 million in ordered restitution for consumers.
Archives: 2019 | 2018 | 2017 | 2016 | 2015 | 2014 | 2013 | 2012 | Releases 2011 and Earlier