Tweet
CSLB Uses Team Approach in Santa Monica Contractor Sting
City agencies help with 15 illegal contractor arrests
SACRAMENTO — The California Contractors State License Board , city of Santa Monica, and Santa Monica Police Department caught 15 individuals suspected of illegal contracting during a two-day undercover sting operation last week at a Santa Monica apartment building. The agencies joined forces after experiencing an upswing in illegal contracting activity in that community.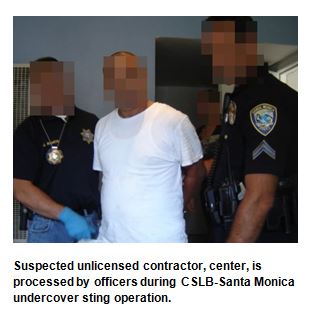 CSLB's Statewide Investigative Fraud Team (SWIFT) investigators used the eight-unit complex on August 6 and 7, 2014, after contacting potential suspects to bid for painting and hot water heater installation. The Department of Consumer Affairs' Division of Investigation also participated in the sting.
Seven unlicensed individuals were nabbed on the first day; eight were cited for illegal contracting on the second day. The highest bid of $8,900 was submitted for painting – far in excess of the $500 legal limit. Any work and/or materials that cost more than $500 require a CSLB-issued license (Business and Professions Code section 7028(a)).
CSLB Registrar Steve Sands commended the Santa Monica agencies' efforts to combat illegal contracting, noting that the operation is an example of the multi-agency approach CSLB uses throughout the state to protect consumers and ensure fair competition among contractors.
"We have excellent partnerships with law enforcement and district attorney offices around California that share our interest of enforcing contractor laws and making sure consumers are not scammed," Sands said.
All 15 suspects were cited for contracting without a license. Nine face an additional misdemeanor charge of illegal advertising (Business and Professions Code section 7027.1). State law requires contractors to place their license number in all print, broadcast, and online advertisements. Those without a license can advertise for jobs valued at less than $500, but the ad must state that they are not a licensed contractor. One of the men showed investigators a contractor license number that did not belong to him and was cited for an additional charge (Business and Professions Code section 7027.3).
In addition, Santa Monica Code Enforcement officers cited six of the suspects during the two days for operating without a city business license.
Suspects received Notice to Appear citations for 8:30 a.m. on November 5 or 6, 2014, in Los Angeles County Superior Court, 11701 La Cienega Blvd., Los Angeles, CA 90045 (Map) to answer to illegal contracting charges.
SANTA MONICA: DAY 1
SUSPECT NAME
CITY OF RESIDENCE
LICENSE CLASSIFICATION
ALLEGED VIOLATIONS

Gilbert Anthony Laredo
Inglewood

Contracting without a license,
Illegal advertising

Matongo Agrippa Mtangadura
Los Angeles

Contracting without a license

Garth Alexander McKeown
Santa Monica

Contracting without a license,
Displaying a license not issued to him

Neil Moat
Valley Village

Contracting without a license

Albert Raymond Anderson Jr.
Silver Lake

C33 - Painting and Decorating

Contracting without a license

Brandon Geul
Simi Valley

Contracting without a license

David Gene Phillips
Hawthorne

Contracting without a license,
Illegal advertising



SANTA MONICA: DAY 2


Paul Vincent Bateman
Los Angeles

Contracting without a license,
Illegal advertising

Gary Noble
Whittier

Contracting without a license,
Illegal advertising

Dimas Chinchilla Garcia
Gardena

Contracting without a license,
Illegal advertising

Eddy Rolando Lopez
Los Angeles

Contracting without a license

Antonio Campas
Torrance

Contracting without a license,
Illegal advertising

Jessie Earl Blaylock
Thorton

Contracting without a license,
Illegal advertising

Woodrow William Lawhon
Los Angeles

Contracting without a license,
Illegal advertising

Richard Glen Mills
Gardena

Contracting without a license,
Illegal advertising




CSLB encourages consumers to always "Check the License First" by visiting www.cslb.ca.gov or calling CSLB's toll-free automated line: 800.321.CSLB (2757). Also, visit CSLB's website for tips about how to hire a contractor and to sign up for CSLB email alerts.

The California Contractors State License Board operates under the umbrella of the Department of Consumer Affairs. CSLB licenses and regulates almost 290,000 contractors in California, and is regarded as one of the leading consumer protection agencies in the United States. In fiscal year 2012-13, CSLB helped recover nearly $51 million in ordered restitution for consumers.

Archives: 2019 | 2018 | 2017 | 2016 | 2015 | 2014 | 2013 | 2012 | Releases 2011 and Earlier