Tweet
Unlicensed Contractor Convicted in Monterey County Elder Abuse Case Sentenced to State Prison
CSLB investigation led to conviction of 10 felonies and order to repay victims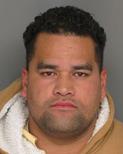 SACRAMENTO — A 29-year-old unlicensed contractor was ordered to spend four years in state prison after being sentenced in Monterey County Superior Court on September 3, 2013. He also will have to pay his victims more than $50,000 in restitution.
Nito Kalisi Sefa, of Seaside, was arrested February 19, 2013. He was convicted of 10 felonies including residential burglary, elder abuse, and forgery, and to a misdemeanor count of fraudulently using a contractor license that was not issued to him. A Contractors State License Board (CSLB) investigation determined that Sefa bilked elderly victims out of more than $100,000 in cash and stolen, forged checks.
Sefa was operating with a business name similar to that of a relative who is a licensed contractor, and illegally used his relative's legitimate license number to solicit construction work from the victims.
CSLB issued a news release following Sefa's arrest, highlighting two victims, both in their 80s, who hired him for small jobs. Sefa coaxed more money from victims by telling them a family member was hospitalized or had recently died, neither of which was true. While in both homes, Sefa also stole blank checks, then forged and later cashed them. News media coverage of the arrest led to additional victims contacting authorities.
"The elderly can be vulnerable and are preyed upon by people like Mr. Sefa," said CSLB Registrar Steve Sands. "We applaud the Monterey County District Attorney's Office for aggressively prosecuting this case and sending Mr. Sefa to state prison."
CSLB urges family members to review their elderly loved ones' financial accounts regularly for unusual activity and for all consumers to follow these tips before hiring anyone to work in or around their home:
Hire only state-licensed contractors and ask to see their license and a photo ID to verify their identity.
Always check the license number at CSLB's website, or CheckTheLicenseFirst.com to make sure the license is in good standing, and that employees are covered by workers' compensation insurance.
Don't pay more than 10 percent or $1,000, whichever is less, as a down payment. There is an exception for about two dozen licensees who carry special bonds to protect consumers. These exceptions are noted on CSLB's website.
Don't pay in cash, and don't let payments get ahead of the work.
Get at least three bids, check references, and get a written contract with signed change orders for any additions or amendments to the contract.
The Contractors State License Board operates under the umbrella of the California Department of Consumer Affairs. More information and publications about hiring contractors are available on CSLB's website or by calling (800) 321-CSLB (2752). You also can sign up for CSLB email alerts. CSLB licenses and regulates about 300,000 contractors in California, and is regarded as one of the leading consumer protection agencies in the United States. In fiscal year 2012-13, CSLB helped recover nearly $44 million in ordered restitution for consumers.
Archives: 2019 | 2018 | 2017 | 2016 | 2015 | 2014 | 2013 | 2012 | Releases 2011 and Earlier