Tweet
CSLB Undercover Sting in Artesia Catches All First-Time Offenders
Goal of operation is to protect consumers and level the playing field for licensed contractors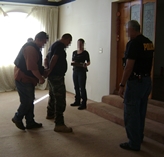 SACRAMENTO —A residential home in east Artesia, less than a half mile from the historic Artesia Water Tower served as the backdrop for an undercover sting operation conducted Thursday, November 7, 2013, by the Contractors State License Board's (CSLB) Statewide Investigative Fraud Team (SWIFT). The operation resulted in eight people receiving Notices to Appear (NTA) in court to answer a variety of misdemeanor charges.
SWIFT conducted the sting in partnership with the Department of Consumer Affairs' Division of Investigation.
SWIFT Investigators posing as homeowners requested bids for home improvement jobs including painting, cabinets, fencing, and flooring. Six of the eight suspects were identified based on ads posted on craigslist.org.
Seven illegal operators were cited for contracting without a license (Business and Professions Code section 7028). All home improvement jobs valued at $500 or more (combined labor and material costs) must be conducted by a company or person with a license issued by CSLB.
Six of the eight also were cited for violating contractor advertising laws, that require a contractor's license number to be included in all forms of advertising or stated that the individual is not licensed (Business and Professions Code section 7027.1).
One suspect who offered a $5,000 bid for kitchen repair work was cited for acting in the capacity of a salesperson without being registered with CSLB (Business and Professions Code 7153 (a)).
"Not only are unlicensed contractors notorious for victimizing consumers, they also undercut legitimately licensed contractors, making it difficult for them to compete," said CSLB Registrar Steve Sands. "Since many first-time offenders could qualify for a contractor's license, we give them application packets and offer to help them get licensed. This protects consumers and helps level the playing field for licensed contractors."
The suspects listed below are scheduled to appear February 5, 2014, 8:30 a.m., in Los Angeles Superior Court, 10025 East Flower Street, Bellflower, CA 90706 (MAP).
SUSPECTS WHO RECEIVED NOTICES TO APPEAR:
CSLB encourages consumers to always "Check The License First" by visiting www.cslb.ca.gov or calling CSLB's toll-free automated line 800.321.CSLB (2757). Also, visit CSLB's website for tips about how to hire a contractor and to sign up for CSLB email alerts.
The Contractors State License Board operates under the umbrella of the California Department of Consumer Affairs. More information and publications about hiring contractors are available on CSLB's website or by calling (800) 321-CSLB (2752). You also can sign up for CSLB email alerts. CSLB licenses and regulates about 300,000 contractors in California, and is regarded as one of the leading consumer protection agencies in the United States. In fiscal year 2012-13, CSLB helped recover nearly $44 million in ordered restitution for consumers.
Archives: 2019 | 2018 | 2017 | 2016 | 2015 | 2014 | 2013 | 2012 | Releases 2011 and Earlier