Tweet
Fake San Diego Area Contractors Caught by CSLB during Undercover Sting
All posted illegal online bulletin board ads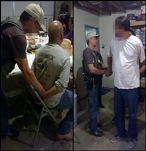 SACRAMENTO — Six suspects illegally operating as contractors were cited during an undercover sting in Spring Valley, 15 miles east of San Diego on November 20, 2013. Investigators from the Contractors State License Board's (CSLB) Statewide Investigative Fraud Team (SWIFT) posed as property owners of the residential home during the one-day operation. All six received Notices to Appear (NTA) in Superior Court to answer a variety of misdemeanor charges.
SWIFT conducted the sting in partnership with the California Department of Insurance, and the San Diego County Sheriff's Department Lemon Grove Station Crime Suppression Team. The home used for the sting was coordinated through the International Brotherhood of Electrical Workers (IBEW).
SWIFT investigators requested estimates for home improvement jobs including concrete, cabinetry, fencing, and tile work. All suspects were contacted through online ads posted on craigslist.org.
Six suspects were cited for contracting without a license (Business and Professions Code section 7028). All home improvement jobs valued at $500 or more (combined labor and material costs) must be conducted by a company or person with a contractor license issued by CSLB.
Three were cited for violating contractor advertising laws. State law requires a valid contractor license number to be included in all forms of advertising or state that the individual is not licensed (Business and Professions Code section 7027.1).
In an apparent attempt to circumvent the law, two suspects explained to investigators that they would only work for an hourly rate of $40, and not daily or by-the-job rates. Another suspect offered a $2,000 bid for the labor-only portion of a kitchen countertop replacement job; he then suggested that the investigator purchase building materials. Neither is permitted under California law.
"Online bulletin board websites are rife with people offering contractor-type services at cut-rate prices, with little or no regard for state law," said CSLB Registrar Steve Sands. "It only takes a few minutes for homeowners to check CSLB's website to make sure the person they're considering to do work on their property is properly licensed."
All suspects are scheduled for arraignment at 8:30 a.m. on February 20, 2014, in San Diego County Superior Court, East County Regional Center, 250 East Main Street, El Cajon, CA 92020 (MAP).
SUSPECTS WHO RECEIVED NOTICES TO APPEAR:
CSLB encourages consumers to always "Check The License First" by visiting www.cslb.ca.gov or calling CSLB's toll-free automated line 800.321.CSLB (2757). Also, visit CSLB's website for tips about how to hire a contractor and to sign up for CSLB email alerts.
The Contractors State License Board operates under the umbrella of the California Department of Consumer Affairs. More information and publications about hiring contractors are available on CSLB's website or by calling (800) 321-CSLB (2752). You also can sign up for CSLB email alerts. CSLB licenses and regulates about 300,000 contractors in California, and is regarded as one of the leading consumer protection agencies in the United States. In fiscal year 2012-13, CSLB helped recover nearly $44 million in ordered restitution for consumers.
Archives: 2019 | 2018 | 2017 | 2016 | 2015 | 2014 | 2013 | 2012 | Releases 2011 and Earlier