Tweet
Unusual Weekend CSLB Sting in Roseville Yields Big Results
Eight cited for illegal contracting as local contractor association office goes undercover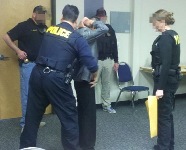 SACRAMENTO — It might seem like an unlikely place to catch unlicensed contractors, but the Contractors State License Board (CSLB) successfully used an industry association office during a Saturday sting operation that snared eight surprised, if not unobservant, suspects in Roseville on November 23, 2013.
"Why would unlicensed operators know where the local contractor association office is? They obviously have never been there," said CSLB Registrar Steve Sands.
Had those cited on illegal contracting charges glanced up as they were walking in, they may have seen the Placer County Contractors Association sign on top of the commercial building.
Investigators with CSLB's Statewide Investigative Fraud Team(SWIFT) used the location to act as property owners of a real estate business in need of trade work. The team was assisted by investigators from the Placer County District Attorney's Office, Amador County District Attorney's Office, and the Department of Consumer Affairs' Division of Investigation.
Once inside, phony contractors gave bids on work that included paint, tile, landscaping, and general building projects. Bids ranged as high as $15,000 for landscaping and $10,000 for a bathroom tile project – far in excess of what the law allows for those working without a CSLB license. Only licensed contractors can accept projects totaling $500 or more in combined labor and material costs.
All eight suspects received misdemeanor citations for contracting without a license (Business and Professions Code section 7028), which carries a penalty of up to six months in jail and/or a fine of up to $5,000 if convicted. Seven were cited for illegal advertising (Business and Professions Code section 7027.1). State law requires contractors to place their license number in all print, broadcast, and online advertisements. Those without a license can advertise to perform jobs valued at less than $500, but the ad must state that they are not a licensed contractor. The penalty is a fine of $700 to $1,000.
The sting also demonstrated that unlicensed contractors are just as likely to prey upon business property owners as private homeowners. "Commercial owners are every bit as vulnerable as homeowners," Sands said. "If you need to have work done on your business property, be sure to visit CSLB's website to check on the people you're considering for the job."
SWIFT worked from a list of potential illegal contractors that was compiled from the online bulletin board craigslist.org and business cards posted at local stores. One contractor who was invited to the sting turned out to be a licensee who failed to include legally required information in his ad, and he expressed his chagrin in a text message to investigators afterward: "Just so you are informed, I removed/deleted all my CL (craigslist) ads. I apologize for meeting under these circumstances. I will keep my promise and word with you and your department."
The suspects are scheduled to be arraigned at a time and date to be determined in Placer County Superior Court, 10820 Justice Center Drive, Department 43, Roseville, CA 95678. (MAP).
SUSPECTS WHO RECEIVED NOTICES TO APPEAR:
CSLB encourages consumers to always "Check The License First" by visiting www.cslb.ca.gov or calling CSLB's toll-free automated line 800.321.CSLB (2757). Also, visit CSLB's website for tips about how to hire a contractor and to sign up for CSLB email alerts.
The Contractors State License Board operates under the umbrella of the California Department of Consumer Affairs. More information and publications about hiring contractors are available on CSLB's website or by calling (800) 321-CSLB (2752). You also can sign up for CSLB email alerts. CSLB licenses and regulates about 300,000 contractors in California, and is regarded as one of the leading consumer protection agencies in the United States. In fiscal year 2012-13, CSLB helped recover nearly $44 million in ordered restitution for consumers.
Archives: 2019 | 2018 | 2017 | 2016 | 2015 | 2014 | 2013 | 2012 | Releases 2011 and Earlier