Tweet
It Was Raining Illegal Contractors at Hayward CSLB Sting Operation
Nine suspects cited, given court dates for contracting without license, illegal advertising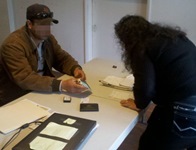 SACRAMENTO — A stormy day didn't deter unlicensed contractors from converging on a Hayward home to bid for construction work during a Contractors State License Board (CSLB) undercover sting operation on November 20, 2013, carried out with the assistance of the Alameda County District Attorney's Office. Nine suspects were issued Notices to Appear (NTAs) in Superior Court on charges of contracting without a license and false advertising.
Investigators from CSLB's Statewide Investigative Fraud Team) (SWIFT) posed as homeowners at the single-family home and fielded a multitude of offers to do work that included electrical, plumbing, fencing and flooring projects. It wasn't difficult for CSLB investigators to identify those who might be illegally contracting in the area simply by checking online bulletin boards such as craigslist.org, business cards or flyers posted at hardware stores, and local publications, including Penny Saver.
Nine of the 10 people who showed up to give a bid were cited. All nine face misdemeanor charges for both contracting without a license (Business and Professions Code section 7028), which carries a penalty of up to six months in jail and/or a fine of up to $5,000 if convicted, and illegal advertising (Business and Professions Code section 7027.1). State law requires contractors to place their license number in all print, broadcast, and online advertisements. Those without a license can advertise to perform jobs valued at less than $500, but the ad must state that they are not a licensed contractor. The penalty is a fine of $700 to $1,000.
The lone person who did not bid had a good reason – he had been cited for illegal contracting during a CSLB sting in July and avoided getting caught again.
"It doesn't matter what the conditions – rain, cold, or even after a natural disaster – unlicensed contractors always seem to come out of the woodwork," said CSLB Registrar Steve Sands. "And they come to take advantage of a situation, no matter if they're qualified or not to do the job."
All suspects are scheduled for arraignment at 8:30 a.m. on January 13, 2014, in Alameda County Superior Court, 24405 Amador Street, D-521, Hayward, CA 4544. (MAP).
SUSPECTS WHO RECEIVED NOTICES TO APPEAR:
CSLB encourages consumers to always "Check The License First" by visiting www.cslb.ca.gov or calling CSLB's toll-free automated line 800.321.CSLB (2757). Also, visit CSLB's website for tips about how to hire a contractor and to sign up for CSLB email alerts.
The Contractors State License Board operates under the umbrella of the California Department of Consumer Affairs. More information and publications about hiring contractors are available on CSLB's website or by calling (800) 321-CSLB (2752). You also can sign up for CSLB email alerts. CSLB licenses and regulates about 300,000 contractors in California, and is regarded as one of the leading consumer protection agencies in the United States. In fiscal year 2012-13, CSLB helped recover nearly $44 million in ordered restitution for consumers.
Archives: 2019 | 2018 | 2017 | 2016 | 2015 | 2014 | 2013 | 2012 | Releases 2011 and Earlier