Tweet
CSLB Looking for Additional Victims in Growing Monterey County Elder Abuse Case
Unlicensed contractor already facing charges of victimizing two seniors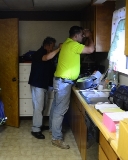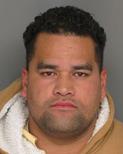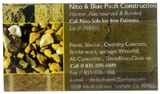 SACRAMENTO — The Contractors State License Board (CSLB) is putting out an appeal to any victims of an unlicensed contractor accused of preying on at least two elderly people in the Monterey area, bilking them out of more than $100,000, in cash, checks and forged checks.
Nito Kalisi Sefa, 29, of Seaside was arrested February 19, 2013, and faces 19 felony and misdemeanor charges, including burglary, forgery, theft by false pretense, fraudulent use of a contractor's license number, and contracting without a license.
It's alleged that Sefa, operating as "Blue Pacific Construction," made contact with his elderly victims by soliciting them for construction work. In that process Sefa advertised himself as having a state contractor license, which is not the case.
In one case, an 83-year-old woman agreed to have Sefa do work at her home in Marina. During that process, investigators say he went into her home and allegedly stole blank checks from her checkbook, then wrote at least $6,000 in checks to himself and cashed them.
In the second case, Sefa did some work for an 82-year-old man in Del Ray Oaks. Sefa allegedly told his victim that he needed a loan because his wife was ill. Sefa later told the victim his wife was dying; finally he said she had died and he needed to send her body home to Tonga. None of those statements was true, but the victim wrote Sefa checks totaling more than $75,000. Sefa also allegedly stole at least a half-dozen checks from the victim's checkbook, that he forged and later cashed for $19,500.
During this same time period, on October 17, 2012, CSLB investigators caught Sefa in an undercover sting operation, and charged him with fraudulent use of a contractor's license number, contracting without a license, illegal advertising, requesting an excessive down payment and issued him a Stop Order.
"We're worried that there are more elderly victims taken advantage of by Mr. Sefa," said CSLB Registrar Steve Sands. "If they come forward, this will help prosecutors build an even stronger case."
Investigators believe Sefa has done landscaping and roofing work in the Marina and Seaside areas. Victims or members of their family are encouraged to contact CSLB's Central SWIFT office at (559) 490-0580. Victims also can contact their local law enforcement agency.
Sefa remains in Monterey County Jail. His next scheduled court appearance is March 5, 2013.
CSLB urges consumers to follow these tips before hiring anyone to work on their property:
Hire only state-licensed contractors and ask to see their license and a photo ID to verify their identity.
Always check the license number at CSLB's website, or www.CheckTheLicenseFirst.com to make sure the license is in good standing, and that employees are covered by workers' compensation insurance.
Don't pay more than 10 percent or $1,000, whichever is less, as a down payment. There is an exception for about two dozen licensees who carry special bonds to protect consumers. These exceptions are noted on CSLB's website.
Don't pay in cash, and don't let payments get ahead of the work.
Get at least three bids, check references, and get a written contract with signed change orders for any additions or amendments to the contract.
The Contractors State License Board licenses and regulates California's 300,000 contractors, operating under the umbrella of the California Department of Consumer Affairs. It is regarded as one of the leading consumer protection agencies in the United States. In fiscal year 2011-12, CSLB helped recover nearly $36 million in ordered restitution for consumers.
Archives: 2019 | 2018 | 2017 | 2016 | 2015 | 2014 | 2013 | 2012 | Releases 2011 and Earlier