Tweet
Contractors State License Board Investigation Leads to Arrest, Multiple Felony Charges in Multi-Million Dollar Case
Charges against alleged unlicensed contractor include grand theft and diversion of construction funds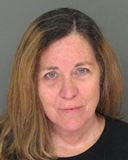 SACRAMENTO — A Santa Cruz County woman faces a series of felony and misdemeanor charges after a lengthy investigation by the Contractors State License Board (CSLB) that resulted in her arrest on February 8, 2013. Sandra Nora Greenwell, 56, was arrested in Boulder Creek after a $100,000 warrant was issued in nearby Santa Clara County.
CSLB's investigation found that in December 2010, Greenwell and her son formed Los Gatos Group LLC to build a residential home in Los Gatos (Santa Clara County). She then enlisted a number of investors to provide financial backing for the project, valued at $3.2 million.
Investigators found that Greenwell used her position to divert at least $46,500 in investors' money into the bank account of another company she ran, Eagle Consulting Team.
The investigation also determined that Greenwell hired licensed and unlicensed contractors to work on the residence, and illegally used a licensed contractor's number to pull a building permit for the project.
Greenwell is expected to face a total of five charges:
Fraudulent Use of a Contractor's License Number (Business & Professions Code section 7027.3 – felony)
Theft (Penal Code 484 – felony)
Grand Theft (Penal Code 487(a) – felony)
Diversion of Funds (Penal Code 484(b) – misdemeanor)
Contracting without a License (Business & Professions Code 7028(a) – misdemeanor)
Greenwell's next court date is scheduled for March 21, 2013 at 1:30 p.m. in the Santa Clara County Superior Court in San Jose (Map).
"It's important to note that cases like this are the exception rather than the rule when it comes to the character of people in the construction industry," said CSLB Registrar Steve Sands. "This complex investigation is another example of the lengths some unscrupulous people will go to in order to take advantage of consumers."
The Contractors State License Board operates under the umbrella of the California Department of Consumer Affairs. More information and publications about hiring contractors are available on at CSLB's website or by calling 800-321-CSLB (2752). You also can sign up for CSLB email alerts. CSLB licenses and regulates California's 300,000 contractors, and is regarded as one of the leading consumer protection agencies in the United States. In fiscal year 2011-12, CSLB helped recover nearly $36 million in ordered restitution for consumers.
Archives: 2019 | 2018 | 2017 | 2016 | 2015 | 2014 | 2013 | 2012 | Releases 2011 and Earlier