Tweet
Fake Contractors, and Real Ones Not Following Rules Get Surprised at CSLB Roseville Sting
Eight face illegal contracting charges after undercover operation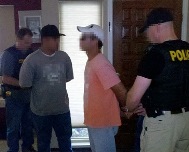 SACRAMENTO — The net cast by the Contractors State License Board (CSLB) to catch unlicensed contractors in a Roseville undercover sting operation this week bagged not only phony contractors, but turned up a number of real ones who, despite having CSLB licenses, were violating various aspects of the state's Contractor License Law.
CSLB's Statewide Investigative Fraud Team (SWIFT) arrested eight individuals invited to a home near Maidu Park August 27, 2013, to bid on awning, wood flooring, concrete, landscaping, and painting projects. Those suspects were given Notices to Appear (NTA) in court to face misdemeanor charges that involve contracting without a state license, and illegal advertising.
SWIFT investigators posing as homeowners were assisted by the Roseville Police Department and Amador County District Attorney's (DA) Office, whose investigators are part of a multi-agency workers' compensation unit.
Investigators noted a higher-than-usual number of legitimate licensed contractors who were not abiding by the license terms. Violations included using a business name not listed with CSLB, failing to include license numbers in advertisements, and submitting a bid for work outside the job classification. In one case a licensed electrician submitted a bid for painting. The licensees caught now face possible administrative citations.
"Part of the responsibility that goes with a contractor license is following its rules," said CSLB Registrar Steve Sands. "This sting reinforces why it's so important for consumers to check a contractor's license before hiring them. With a simple check they'd be able to determine if the person is properly licensed, if they're licensed to do that particular type of work, and if they have insurance to cover workers who're going to be on your property."
The eight unlicensed suspects received NTAs for contracting without a license (Business and Professions Code section 7028). Only CSLB-licensed contractors can accept projects totaling $500 or more in combined labor and material costs. The eight will also face a charge of illegal advertising (Business and Professions Code section 7027.1). State law requires that unlicensed operators state in all forms of advertising that they aren't licensed.
The suspects are scheduled for arraignment on October 2, 2013, in Placer County Superior Court, 10820 Justice Center Drive, Roseville, CA 95678 (MAP).
SUSPECTS WHO RECEIVED NOTICES TO APPEAR:
Visit CSLB's website for tips about how to hire a contractor.
The Contractors State License Board operates under the umbrella of the California Department of Consumer Affairs. More information and publications about hiring contractors are available on CSLB's website or by calling (800) 321-CSLB (2752). You also can sign up for CSLB email alerts. CSLB licenses and regulates about 300,000 contractors in California, and is regarded as one of the leading consumer protection agencies in the United States. In fiscal year 2012-13, CSLB helped recover nearly $44 million in ordered restitution for consumers.
Archives: 2019 | 2018 | 2017 | 2016 | 2015 | 2014 | 2013 | 2012 | Releases 2011 and Earlier