Tweet
CSLB Picks Off Illegal Contractors in Napa Sting Operation
Registered sex offender among 19 ordered to appear in court for misdemeanor contracting offenses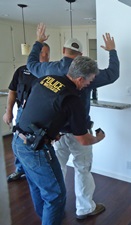 SACRAMENTO — A Contractors State License Board (CSLB) sting operation in the heart of the wine country July 30-31, 2013, yielded ample harvest of illegal contractors – 19 were cited, including a registered sex offender previously caught by CSLB for illegal contracting in Marin County.
CSLB's Statewide Investigative Fraud Team (SWIFT) conducted the two-day sting at a house in Napa with the assistance of the Napa County District Attorney's (DA) Office . Investigators posed as homeowners and sought bids for painting, concrete, plumbing, landscaping, HVAC, and demolition work from bogus contractors who were contacted through business cards and ads in online bulletin boards, including craigslist.org.
One individual was apprehended by Napa DA investigators as he fled toward his vehicle. Ted L. Brooks, of Santa Rosa, who is required to register as a sex offender in California because of an offense in Massachusetts, refused to enter the sting house after giving a bid and instead threw his written work offer in the face of an investigator and ran. Brooks was escorted back to the property and issued a Notice to Appear in Superior Court on misdemeanor charges of contracting without a license and illegal advertising. Brooks was cited and found guilty of similar charges in a 2010 CSLB sting operation.
"This incident shows how important it is to take a moment and check to see if the person you're thinking of hiring has a contractor license. Since 2005, those with a license have undergone a criminal background check, in addition to proving that they have professional experience in their field," said CSLB Registrar Steve Sands. "It's easy to check someone's license status, or lack of it, on CSLB's CSLB's website or by calling CSLB's toll-free line."
"People of all ages need to be both aware and wary of anyone who comes to their door offering unsolicited repairs," said Napa County District Attorney Gary Lieberstein. "They are very likely to be unlicensed individuals who are trying to lure you into making unneeded repairs and, many times, asking for money up front but never performing any work. First making sure the person is state-licensed can prevent many home improvement crimes, especially against elderly and vulnerable members of our communities."
All 19 suspects face misdemeanor charges of contracting without a license (Business and Professions Code section 7028). Seventeen were cited for illegal advertising (Business and Professions Code section 7027.1). State law requires that contractors include their license number in all forms of advertising, including online ads. Those without a license can advertise as long as the ad states that they are not a state-licensed contractor, and the combined total of a project's labor and material costs is under $500.
CSLB conducts sting operations throughout the state each week to protect consumers, help level the playing field for legitimate contractors, and to curb the underground economy.
Suspects cited on July 30 are scheduled to appear August 29, 2013, in Napa County Superior Court, 1111 Third Street, Napa, CA 94559 (MAP). Those cited on July 31 must appear in court on August 30.
JULY 30 NOTICES TO APPEAR:
JULY 31 NOTICES TO APPEAR:
Visit CSLB's website for tips about how to hire a contractor.
The Contractors State License Board licenses and regulates about 300,000 contractors in California, and is regarded as one of the leading consumer protection agencies in the United States. It operates under the umbrella of the California Department of Consumer Affairs. In fiscal year 2012-13, CSLB helped recover nearly $44 million in ordered restitution for consumers. More information and publications about hiring contractors are available on CSLB's website or by calling (800) 321-CSLB (2752). You also can sign up for CSLB email alerts.
Archives: 2019 | 2018 | 2017 | 2016 | 2015 | 2014 | 2013 | 2012 | Releases 2011 and Earlier