Tweet
CSLB and Partners Sink Orange County Swimming Pool Pariah
New Labor Enforcement Task Force catches long-time thorn in pool and plastering industry's side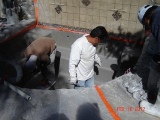 SACRAMENTO — The Contractors State License Board (CSLB) and partners from the Labor Enforcement Task Force (LETF) caught up to long-time illegal operator, Benito German Lopez Cruz, 47, of Orange, while conducting an enforcement operation targeting unlicensed, uninsured, and illegal cash payments in southern Orange County on February 16, 2012.
Contracting without a license and failure to secure workers' compensation insurance for employees will cost Lopez $4500 in CSLB fines. CSLB partner agencies also took adverse action. The Department of Industrial Relations' Division of Labor Standards Enforcement (DLSE) issued a stop order prohibiting the use of employee labor until workers' comp insurance is obtained, and citations for $7,750 in fines for failure to carry workers' compensation and for paying employees in cash. Lopez also will be audited by the Employment Development Department (EDD).
CSLB was alerted to Lopez's illegal activity by law-abiding swimming pool and plastering contractors in Orange County who Lopez was under-bidding by hundreds of thousands of dollars in recent years. During the enforcement operation, Lopez, who does business as Benito Lopez Trucking, was caught with three employees who were plastering a spa at a Dove Canyon home.
Lopez was subcontracting for a contractor with an expired license. CSLB issued a citation to the expired licensee for contracting on an expired license, filing a false exemption from workers' compensation insurance, and contracting with an unlicensed operator. DLSE issued the expired licensee a stop order for not having workers' compensation insurance for three employees at the construction site, and $8,500 in fines for failure to carry workers' comp and for cash payments.
"The underground economy cheats California contractors and taxpayers who play by all the rules, and can financially harm consumers who hire unlicensed, uninsured operators if an injury occurs on their property," said CSLB Registrar Steve Sands. "The enhanced enforcement cooperation between CSLB and its partners will hopefully take a long-time illegal operator out of the market and put him on the path to becoming licensed, insured, and paying proper payroll taxes."
CSLB urges consumers to follow these tips before hiring anyone to work on their home:
Hire only licensed contractors and ask to see their license and a photo ID to verify their identity.
Always check the license number on CSLB's website at www.cslb.ca.gov or www.CheckTheLicenseFirst.com to make sure the license is in good standing, and that a workers' compensation policy is in place if the contractor has employees.
Don't pay more than 10 percent or $1,000, whichever is less, as a down payment. There is an exception for about two dozen licensees who carry special bonds to protect consumers. These exceptions are noted on CSLB's website.
Don't pay in cash, and don't let payments get ahead of the work.
Get at least three bids, check references, and get a written contract.
CSLB, the Department of Industrial Relations, Employment Development Department, Board of Equalization, and Bureau of Automotive Repair, in collaboration with the Insurance Commissioner and Attorney General, comprise the LETF. The Contractors State License Board operates under the umbrella of the California Department of Consumer Affairs. More information and publications about hiring contractors are available on the CSLB website or by calling 800-321-CSLB (2752). You can also sign up for CSLB email alerts. CSLB licenses and regulates California's 300,000 contractors, and is regarded as one of the leading consumer protection agencies in the United States. In fiscal year 2010-11, CSLB helped recover nearly $45 million in ordered restitution for consumers.
Archives: 2019 | 2018 | 2017 | 2016 | 2015 | 2014 | 2013 | 2012 | Releases 2011 and Earlier