Tweet
Contractors State License Board Doesn't Have to Go Far to Arrest Revoked Licensee
Formerly licensed general contractor taken into custody at CSLB headquarters on multiple charges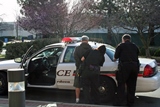 SACRAMENTO — Licensed contractors, as well as contractor license applicants, got more than they bargained for when they were at Contractors State License Board (CSLB) headquarters in Sacramento Tuesday morning, February 21, 2012.
They saw Rancho Cordova Police officers take a revoked licensee into to custody on an $11,000 arrest warrant out of Sutter County. Robert Edward Omohundro, Jr., 59, of Cameron Park, was arrested without incident after being interviewed about two consumer complaints by a CSLB investigator. He was taken to Sacramento County Jail on three charges:
Business & Professions Code 7028(a) – Contracting without a License
Business & Professions Code 7161(b) – Misrepresentation as a Contractor
Penal Code 853.7 – Failure to Appear after Written Promise
The Sutter County arrest warrant was issued against Omohundro after he failed to show up in court on January 19, 2012, to face charges associated with a 2010 consumer complaint to CSLB. At the time, Omohundro entered into a contract with a Yuba City business owner for a $2,300 commercial kitchen remodel, and abandoned the job without doing any work.
The second consumer complaint filed with CSLB alleges that Omohundro entered into a contract for a commercial kitchen remodel and took a down payment of $1400, but did not finish the job.
Omohundro received his general contractor license (#788236) in 2000. It expired in 2005, but he continued to work, unlicensed. CSLB revoked the expired license in January 2010, based on his illegal activity.
"When it comes to catching those who refuse to follow the law, CSLB is aggressive," said CSLB Registrar Steve Sands. "It doesn't matter where we have to go to catch them in California, but it certainly helps when they come right to us." The arrest also stresses the importance for consumers to make sure a contractor is properly licensed before hiring them, or giving them any money."
As of Wednesday morning, Omohundro is still being held in the Sacramento County Jail.
CSLB urges consumers to follow these tips before hiring anyone to work on their home:
Hire only licensed contractors and ask to see their license and a photo ID to verify their identity.
Always check the license number on CSLB's website at www.cslb.ca.gov or www.CheckTheLicenseFirst.com to make sure the license is in good standing, and that a workers' compensation policy is in place if the contractor has employees.
Don't pay more than 10 percent or $1,000, whichever is less, as a down payment. There is an exception for about two dozen licensees who carry special bonds to protect consumers. These exceptions are noted on CSLB's website.
Don't pay in cash, and don't let payments get ahead of the work.
Get at least three bids, check references, and get a written contract.
The Contractors State License Board operates under the umbrella of the California Department of Consumer Affairs. More information and publications about hiring contractors are available on the CSLB website or by calling 800-321-CSLB (2752). You can also sign up for CSLB email alerts. CSLB licenses and regulates California's 300,000 contractors, and is regarded as one of the leading consumer protection agencies in the United States. In fiscal year 2010-11, CSLB helped recover nearly $45 million in ordered restitution for consumers.
Archives: 2019 | 2018 | 2017 | 2016 | 2015 | 2014 | 2013 | 2012 | Releases 2011 and Earlier