Tweet
Illegal Operator Corrects Offenses after Three CSLB Busts
Owner of unlicensed, illegal plaster contracting operation to serve jail time and pay fines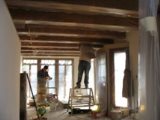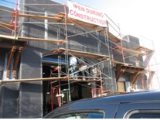 SACRAMENTO — Cesar Resendiz Mendieta, 26, of Salinas, is serving 30 days in the Monterey County Jail after pleading no contest to one count of contracting without a license and another for failure to carry workers' compensation insurance for employees. During a January 18, 2012, hearing in Monterey County Superior Court, Resendiz also was ordered to pay more than $4,000, with the possibility of an additional $8,000 in fines depending on his successful completion of probation. He also pleaded to a third count of driving under the influence (DUI), and was sentenced to five days in county jail and $1,886 in fines.
As part of his probation, Resendiz cannot contract without a license, must purchase workers' comp insurance for employees, and must pay them by check with the proper payroll tax deductions. For the DUI, he was ordered not to drive without a valid license and insurance and to complete the county's first-time offender program.
During the hearing, the judge was informed that Resendiz applied for and passed the contractor trade and license law and business exams, and has the required four years of journey-level experience. He also has posted a license bond, which is another requirement for obtaining a license. Once Resendiz has complied with all court orders, CSLB will consider issuing a C-35 Lathing and Plastering> license.
State law requires that home improvement contracts worth $500 or more for labor and materials be undertaken by a state-licensed contractor. Contractors with employees are legally required to purchase workers' compensation insurance.
CSLB's Monterey County Statewide Investigative Fraud Team (SWIFT) investigator first issued Resendiz a notice to appear in court (NTA) for contracting without a license and failure to provide workers' comp for employees on February 3, 2011, when tipped that a suspected unlicensed business called "Cesar's Plastering" was performing work valued at $2,200 at a Carmel restaurant. On March 21, 2011, the investigator followed another tip that "Cesar's Plastering" was working at an auto repair shop in Monterey, and issued an NTA for contracting without a license for a $6,000 job. Another tip led the investigator to Resendiz on August 26, 2011, where he was performing a $4,000 job at a Pacific Grove home. For this, he received an NTA for contracting without a license and failure to carry workers' comp.
"Clearly, Mr. Resendiz has gotten the message that operating without a contractor license and the proper employee insurance and tax deductions will not be tolerated," said CSLB Registrar Steve Sands. "We hope that other illegal operators will realize that even if they've been caught, CSLB's goal is to work with them to achieve compliance so they can operate within the law and compete fairly with licensees who comply with state consumer and worker protection laws and provide good jobs in their communities."
CSLB urges consumers to follow these tips before hiring anyone to work on their home:
Hire only licensed contractors and ask to see their license and a photo ID to verify their identity.
Always check the license number on CSLB's website at www.cslb.ca.gov or www.CheckTheLicenseFirst.com to make sure the license is in good standing.
Don't pay more than 10 percent or $1,000, whichever is less, as a down payment. There is an exception for about two dozen licensees who carry special bonds to protect consumers. These exceptions are noted on CSLB's website.
Don't pay in cash, and don't let payments get ahead of the work.
Get at least three bids, check references, and get a written contract.
The Contractors State License Board operates under the umbrella of the California Department of Consumer Affairs. More information and publications about hiring contractors are available on the CSLB website or by calling 800-321-CSLB (2752). You can also sign up for CSLB email alerts. CSLB licenses and regulates California's 300,000 contractors, and is regarded as one of the leading consumer protection agencies in the United States. In fiscal year 2010-11, CSLB helped recover nearly $45 million in ordered restitution for consumers.
Archives: 2019 | 2018 | 2017 | 2016 | 2015 | 2014 | 2013 | 2012 | Releases 2011 and Earlier