Tweet
Contractors State License Board Uncovers Signs of Scamming
San Bernardino County sting targeting phony sign contractors snares 10 unlicensed operators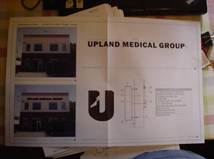 SACRAMENTO — While not as high a profile as other construction trades, there is a problem in California with sign companies that operate without a contractor license. The Contractors State License Board's (CSLB) Statewide Investigative Fraud Team (SWIFT), in cooperation with the Upland Police Department, San Bernardino County District Attorney's Office, and with leads provided by the California Sign Association, has just completed a multi-week undercover sting operation that targeted a group of phony C-45 Sign contractors.
CSLB set up a sting operation on June 23 and June 30, 2010, at a commercial building in the city of Upland, where SWIFT investigators posed as property managers who solicited contractors for installation of outdoor signage on the building. Other unlicensed operators were solicited for tile work and painting at the new, largely unimproved building. Those who submitted bids for more than the legal $500 limit received notices to appear (NTA) in court for contracting without a license and illegal advertising.
California Business and Professions (B&P) Code requires any home or property improvement work valued at $500 or more for labor and materials be undertaken by a licensed contractor. B&P Code also requires contractors to put their license number in all advertisements. Those without licenses may do work valued at less than $500 for labor and materials, but must state in their ads that they are not a licensed contractor.
Consumers often don't realize the risks associated with hiring an unlicensed person for construction and property improvement. Phony contractors do not have a contractor license bond or workers' compensation insurance. A worker who is hurt on the job could seek medical reimbursement or other damages from the property owner. California Labor Code requires contractors to carry workers' comp coverage for each of their employees. Roofing contractors also must have workers' compensation coverage for themselves. B&P Code requires contractors to have a $12,500 license bond to help compensate consumers if work is not completed or if something goes wrong on the job.
"This sting should serve as a warning to consumers who might be taken in by promises of cheaper work performed by someone who isn't licensed," said CSLB Registrar Steve Sands. "In reality, you likely won't pay any more by hiring a licensed contractor who provides the added assurance that you'll be protected from liability if a worker is hurt or anything goes awry during the project."
The following suspects who were issued NTAs are scheduled to be arraigned at 8:00 a.m. on September 30, 2010, in the San Bernardino County Superior Court located at 8303 North Haven Avenue in Rancho Cucamonga.
| NAME | AGE | CITY OF RESIDENCE | LICENSE CLASSIFICATION |
| --- | --- | --- | --- |
| Jose Gerardo Medina Villalobos | 57 | Riverside | Sign |
| Javier Monfort | 52 | San Bernardino | Sign |
| David Charles George | 49 | Cathedral City | Sign |
| Diego Ricardo Francisquez Mateu | 52 | Ontario | Painting |
| Joshua McMillan | 28 | Riverside | Painting |
| Luiz Carlos Bezerra De Souza | 32 | Torrance | Sign |
| Humberto Araiza | 40 | Bloomington | Painting |
| Majdi Abuamri | 39 | Rancho Cucamonga | Tile |
| David Omar Romero | 44 | Maywood | Painting |
| Alex Bruce Oceguera | 31 | Ontario | Painting |
CSLB provides many helpful consumer publications that can be downloaded or ordered from: www.CheckTheLicenseFirst.com, www.cslb.ca.gov or by calling 1-800-321-CSLB (2752).
CSLB urges consumers to remember the following tips when hiring a contractor:
Be especially hesitant when approached by someone offering home improvement services door-to-door.
Verify the contractor's license by checking online or via CSLB's automated phone system, and ask to see a photo ID to make sure you're dealing with the correct person.
Don't pay more than 10% down or $1,000, whichever is less. There is an exception to this for about two dozen contractors who have special bonds for consumer protection that are noted on the CSLB website.
Don't pay in cash, and don't let the payments get ahead of the work.
Check references, and get at least 3 bids and a written contract before your project begins.
The Contractors State License Board operates under the umbrella of the California Department of Consumer Affairs. More information and publications about hiring contractors are available on the CSLB website or by calling 800-321-CSLB (2752). You can also sign up for CSLB e-mail alerts at www.cslb.ca.gov. CSLB licenses and regulates California's more than 300,000 contractors, and is regarded as one of the leading consumer protection agencies in the United States. In fiscal year 2008-09, CSLB helped recover nearly $36 million in ordered restitution for consumers.
Archives: 2019 | 2018 | 2017 | 2016 | 2015 | 2014 | 2013 | 2012 | Releases 2011 and Earlier