Tweet
Notorious Paving Scammer Rolling Toward Incarceration
George Stanley's guilty pleas in Yuba & San Joaquin Co. courts order victim restitution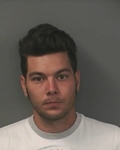 SACRAMENTO —After two years of scamming dozens of consumers and attempting to dodge investigators, paving scam artist George Joseph Stanley, 30, of Moosup, Connecticut, pleaded guilty in Yuba County Superior and was ordered to pay restitution in an amount that will be determined at a hearing on March 15, 2010. Stanley pleaded to one felony count of grand theft by false pretenses and one misdemeanor count of contracting without a license.
Today's plea follows Stanley's guilty plea yesterday, January 28, 2010, in San Joaquin County Superior Court, where he was ordered to pay approximately $102,000 in restitution after pleading to one felony count of elder abuse, one felony count of grand theft by false pretenses, and a misdemeanor count of contracting without a license.
According to the San Joaquin plea agreement, if Stanley has not paid restitution by his July 15, 2010 sentencing hearing, he will serve a maximum of two years in state prison. If restitution is made, Stanley will serve up to one-year in the San Joaquin County Jail. Stanley's attorney requested that an estimated $500,000 worth of paving equipment seized in Butte County by CSLB in June 2009 be returned to his client. He says Stanley wants to take the equipment to Alaska to use it to make money to pay the restitution. CSLB investigators fear that Stanley will flee to avoid serving his sentences and without making restitution to his victims if the equipment is returned. The equipment is currently in the possession of Butte County authorities.
Stanley's sentencing hearing in Yuba County is scheduled for July 16, 2010. If Stanley does not make the yet-to-be-determined restitution by that time, he'll face a maximum of three years in state prison. If restitution is made, he could go to county jail for up to one year.
On September 29, 2009, Stanley pleaded no contest to one felony count of grand theft by false pretenses in Tulare County Superior Court, and was ordered to pay $23,500 in restitution. If restitution is not made by his April 1, 2010, sentencing date, he'll face up to three years in state prison.
"Thanks to the tireless work of CSLB investigators and our partners throughout the state, this notorious criminal will be forced to repay the consumers he has scammed during the past two years with his over-priced, shoddy paving work," said CSLB Registrar Steve Sands. "This unlicensed operator's violation of a judge's order to stop doing work that requires a California contractor license shows blatant disregard for our state laws."
"We hope this sends a clear message to criminals who think they can come to California and rip off unsuspecting consumers," Sands added. "You will be caught and you will pay."
Criminal cases are still pending against Stanley in Butte, Imperial, and Ventura Counties, and in Pennsylvania for various charges of elder abuse, grand theft, using another person's contractor license, and contracting without a license.
CSLB investigators believe Stanley has conned dozens of Californians, including many elderly, of at least a half-million dollars. Stanley's and his extended family's scheme involved approaching home or business owners, stating his crew had leftover asphalt from another paving job, and that they could resurface the property owner's driveway or fill potholes for a "good deal."
The so-called "deal" generally ended up costing much more than the quoted price and the work often crumbled within days or weeks. Property owners lost from hundreds to tens of thousands of dollars.
BACKGROUND
Stanley and his accomplices set up their operations at a motel, scammed people in the surrounding areas, then moved on. Stanley was arrested in both April and May 2008 on warrants from Yuba and Tulare Counties. He posted bail, and then repeated his scams in Idaho and Washington state.
Stanley returned to California in spring 2009. He was arrested in Butte County in June, along with his cousins Kevin Snow, 22, and George Snow, 19, both of Salisbury, Massachusetts. The paving equipment was impounded following that arrest. All three posted bail. While out on bail, Stanley and his cousins are suspected of scamming and drugging an elderly man in East Brandywine Township, Pennsylvania.
When Stanley and the Snow brothers returned for a hearing in Butte County on July 17, 2009, Stanley was arrested on a million-dollar warrant from San Joaquin County. His bail was reduced, and Stanley was released. Stanley then missed at least two scheduled court hearings in Yuba and Butte Counties. A Butte County judge issued a warrant for Stanley's arrest on August 6, 2009.
Stanley returned to Yuba County later in August to deal with his 2008 case and was arrested on the Butte County warrant, as well as a "no-bail" warrant that was issued from Chester County, Pennsylvania.
The Contractors State License Board operates under the umbrella of the California Department of Consumer Affairs. CSLB licenses and regulates about 310,000 contractors and is regarded as one of the leading consumer protection agencies in the United States. In fiscal year 2008-09, CSLB helped recover nearly $36 million in ordered restitution for consumers.
Archives: 2018 | 2017 | 2016 | 2015 | 2014 | 2013 | 2012 | 2011 | Releases 2010 and Earlier