Tweet
Contractors State License Board Awards Cal Poly Construction Management Education Grant
$41,000+ award to help educate tomorrow's industry leaders
SAN LUIS OBISPO —The Contractors State License Board (CSLB) today presented Cal Poly, San Luis Obispo's Construction Management (CM) Department with a check for $41,278.69 at an event held on campus.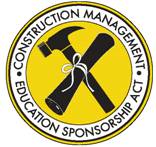 Cal Poly is one of four California institutions to receive grant checks from a sponsorship fund created to help meet the demand for highly educated and trained construction managers. The grant comes from the Construction Management Education Sponsorship Act (CMESA) that was established by the state legislature in 1991. CSLB Registrar Steve Sands presented the check to Professor Allan Hauck, Ph.D., CPC, Cal Poly's CM Department Head.
"These grant awards demonstrate the importance that California's construction industry places on preparing its next generation of leaders," said CSLB Registrar Steve Sands. "Even in today's tough economic times, this state's construction industry understands the importance of insuring that tomorrow's construction managers will be well prepared with the highest level of industry knowledge."
Current contractors who renew their license every two years contributed most of the money to the fund-78%. The remaining 22% came from newly licensed contractors. "We applaud California's licensed contractors for their commitment to this program," said Department of Consumer Affairs Director Brian Stiger. "It is important to make these types of workforce investments because they ensure consumers will continue to be protected in the future."
The goal of CMESA is to maintain and increase the availability of rigorous educational programs for the construction industry. Funds generated by CMESA are distributed to accredited construction management programs and facilities in California colleges and universities.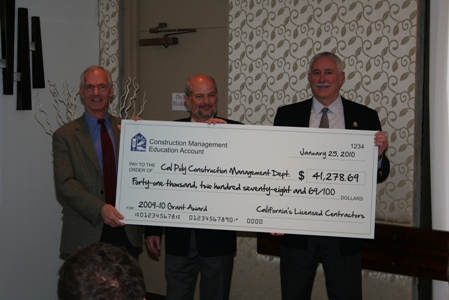 "We are indebted to the thousands of licensed contractors in California who have made these funds available through their generous donations to this program," said Professor Hauck. "We can only hope to return the favor by providing them with the best educated professionals who will lead future generations of employees committed to this industry."
With today's presentation, Cal Poly's CM Department has received $137,986.69 in grant money:
Cal Poly Grant Totals
FY 2004-05
$48,000.00
FY 2005-06
$48,708.00
FY 2009-10
$41,278.69
$137,986.69
Grant Background
When CMESA took effect in 1991, contributions were limited to $25 per individual. In 2003, the state legislature removed that limit, allowing contributions in any amount. Also in 2003, the CMESA account had grown enough to allow the first grants to be awarded. Grants totaling $467,000 were distributed during fiscal years (FY) 2004-05 and 2005-06, depleting the fund. By FY 08-09 the fund had grown enough to resume the grant awards. Grant amounts are determined by the number of graduates from a university's CM program. The 2009-10 grant awards are based on $581.39 for every graduate. Cal Poly totaled 71 CM graduates in the 2008-09 academic year, resulting in its $41,278.69 award. The total amount generated since the program's inception is $616,998.62.
CMESA FY 2009-10 Grant Totals
CSU, Chico
133 Graduates
$ 77,324.87
Cal Poly, San Luis Obispo
71 Graduates
$ 41,278.69
Cal Poly, Pomona
27 Graduates
$ 15,697.53
CSU, Sacramento
27 Graduates
$ 15,697.53
FY 2009-10 Total
258 Graduates
$149,998.62
The Contractors State License Board operates under the umbrella of the California Department of Consumer Affairs. CSLB licenses and regulates about 310,000 contractors and is regarded as one of the leading consumer protection agencies in the United States. In fiscal year 2008-09, CSLB helped recover nearly $36 million in ordered restitution for consumers.
Archives: 2018 | 2017 | 2016 | 2015 | 2014 | 2013 | 2012 | 2011 | Releases 2010 and Earlier