Tweet
San Jose Operation Snags More Than One Dozen Unlicensed Operators
CSLB sets sights on the underground economy in two-day sting/sweep
SACRAMENTO — The Contractors State License Board's (CSLB) Statewide Investigative Fraud Team (SWIFT) netted 14 suspects in a San Jose undercover sting operation this week. The Santa Clara County District Attorney's office assisted in the December 7, 2010 sting and a sweep of construction sites on December 8, which resulted in one citation for contracting with an expired license and another for failure to carry workers' compensation insurance.

"In today's economy, it's more important than ever for consumers to hire licensed and insured contractors," said CSLB Registrar Steve Sands. "People put themselves and family members at risk when they hire unlicensed and uninsured individuals who can end up doing substandard work or never finish the job. They also cheat law-abiding licensees out of work."
During the sting operation, SWIFT investigators posed as homeowners seeking bids for painting, landscaping, concrete, and roofing jobs. Suspects who bid more than $500 for labor and materials received a notice to appear (NTA) in court. California law requires all home improvement jobs valued at more than $500 to be undertaken by a licensed contractor. Contractors also must place their state contractor license number in all advertisements. Unlicensed individuals may advertise and accept jobs valued at less than $500, but their ads must state that they are not a licensed contractor.
CSLB licensees must have at least four years of journey-level experience in their license classification and must pass exams pertaining to their trade and state contracting laws. State law requires that licensees purchase a license bond for consumer protection and that their employees have workers' compensation coverage to shield homeowners from liability. Roofing contractors (C-39) must purchase workers' compensation for themselves, even if they do not have employees.
Suspects who received NTAs will be arraigned in Santa Clara County Superior Court at 200 West Hedding Street on February 7, 2011 at 9:00 a.m.
CSLB urges consumers to remember the following tips when hiring a contractor: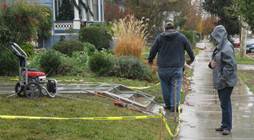 Verify the contractor's license by checking online at www.cslb.ca.gov, or via CSLB's automated phone system at 1-800-321-CSLB (2752).
Ask to see the person's identification to make sure you are dealing with the correct individual.
Don't pay more than 10% down or $1,000, whichever is less. There is an exception to this for about two dozen contractors who purchase special bonds that are noted on CSLB's website.
Don't pay in cash, and don't let the payments get ahead of the work.
Check references, and get at least three bids and a written contract before your project begins.
Make sure your contractor obtains the necessary building permits for any project. If you are unsure of these requirements, contact your local building department.
The Contractors State License Board operates under the umbrella of the California Department of Consumer Affairs. More information and publications about hiring contractors are available on the CSLB website or by calling 800-321-CSLB (2752). You can also sign up for CSLB e-mail alerts at www.cslb.ca.gov. CSLB licenses and regulates California's more than 300,000 contractors, and is regarded as one of the leading consumer protection agencies in the United States. In fiscal year 2009-10, CSLB helped recover nearly $42 million in ordered restitution for consumers.
Archives: 2019 | 2018 | 2017 | 2016 | 2015 | 2014 | 2013 | 2012 | Releases 2011 and Earlier