Tweet
Notorious Paving Scammer Arrested on Brand New Charges
Stanislaus County Warrant No April Fool's Joke for George Stanley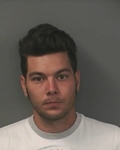 SACRAMENTO — Travelling paving scam artist George Stanley showed up for sentencing this morning in Tulare County for grand theft charges that stem back to 2008, only to be taken into custody, once again, this time on a $15,000 felony warrant out of Stanislaus County. Investigators from the Contractors State License Board's (CSLB) Statewide Investigative Fraud Team (SWIFT) believe Stanley has ripped off more than 50 Californians of more than $500,000 dollars in substandard, exorbitantly priced paving work in recent years.
Stanislaus County prosecutors filed their case against Stanley, 30, of Moosup, Connecticut, on March 8, 2010. The arrest warrant alleges felony theft from an elderly person, grand theft by false pretenses, and fraudulent use of a contractor license number. Stanley posted the entire $15,000 bail amount this afternoon and is out of custody.
Stanley pleaded no contest in Tulare County to one felony count of grand theft by false pretenses on September 29, 2009. He was ordered to pay restitution and was facing between 16 months and three years in state prison at today's hearing. That hearing has been postponed until May 18, 2010, in Department 12 at Tulare County Court in Visalia. Stanley is also scheduled for an April 8, 2010 hearing in Butte County on 31 felony counts of fraudulent use of a contractor license and grand theft by false pretense charges. He plead guilty to elder abuse, grand theft, and contracting without a license charges in San Joaquin and Yuba Counties, and is scheduled for sentencing on those charges on July 15 and 16, 2010, respectively. He could face state prison time if he has not made $102,000 in restitution in San Joaquin County and $35,000 in Yuba County by those dates.
"We hope other Californians who have been victimized by this serial scammer will come forward and let SWIFT investigators know," said CSLB Registrar Steve Sands. "It is important that scammers get the message that fraud won't be tolerated in this state."
Stanley's and his extended family's scheme involve approaching home or business owners, stating they have leftover asphalt from another paving job, and that they can resurface their driveway or fill potholes for a "good deal." Their so-called "deal" generally ends up costing significantly more than the quoted price, and the work often crumbles within days or weeks. Property owners have lost from hundreds to tens of thousands of dollars each.
Stanley and his accomplices set up their operations at a motel, scam people in the surrounding areas, then move on. Stanley was arrested in both April and May 2008 on warrants from Yuba and Tulare Counties. He posted bail, then repeated his scams in Idaho and Washington.
Stanley returned to California in spring 2009. He was arrested in Butte County in June 2009, along with his cousins Kevin Snow, 22, and George Snow, 19, both of Salisbury, Massachusetts. An estimated $500,000 worth of paving equipment was impounded and is still being held by Butte County authorities. All three posted bail. While out on bail, Stanley and his cousins are suspected of scamming and drugging an elderly man in East Brandywine Township, Pennsylvania. The Snows were also identified from a CSLB press release by a victim in Colorado Springs, Colorado, who says they scammed her out of $2300 for a shoddy paving job the day before Stanley's 2009 no contest plea in Tulare County. Stanley and the Snows are believed to have scammed at least one Hawaii business owner in March 2010.
CSLB encourages anyone who believes they may have been scammed by Stanley or his cousins to contact SWIFT at (916) 255-2924 in northern California, (559) 445-5583 in central California or (562) 345-7600 in southern California.
The Contractors State License Board operates under the umbrella of the California Department of Consumer Affairs. More information about hiring contractors is available on the CSLB Web site (www.cslb.ca.gov or www.CheckTheLicenseFirst.com) or by calling 800-321-CSLB (2752). CSLB licenses and regulates California's 310,000 contractors, and is regarded as one of the leading consumer protection agencies in the United States. In fiscal year 2008-09, CSLB helped recover nearly $36 million in ordered restitution for consumers.
Archives: 2019 | 2018 | 2017 | 2016 | 2015 | 2014 | 2013 | 2012 | Releases 2011 and Earlier