Tweet
New Contractors State License Board Video to Air on Cable TV in Auburn Fire Area
"Rebuilding After a Natural Disaster" gives "49 Fire" victims tools to start over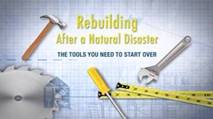 SACRAMENTO — Victims of the 49 Fire in Auburn can take advantage of free advice from a new step-by-step video produced by the Contractors State License Board (CSLB) explaining how natural disaster victims can safely rebuild their lives and homes. The video will air on cable TV throughout Placer County this weekend.
"Rebuilding After a Natural Disaster" takes homeowners through the process of developing a rebuilding plan, hiring a contractor, financing, contracts, and actual project work. It also reviews some of the perils that homeowners can face and how to avoid them.
The video shadows a couple who lost their home in a fire as they are coached through the entire rebuilding process by an expert. Since most disaster victims won't have access to their own personal expert, this new video provides the next best thing. Some of the topics covered include: why the lowest bid isn't necessarily the best bid, what to look for in your contract, how to check references, and whether contractors charge for a bid.
"Even in the best of times, major contracting projects are a tough thing to go through alone," said CSLB Registrar Steve Sands. "CSLB's new video provides valuable tips that we hope will empower homeowners to have a positive experience while putting their lives back together. We extend our thanks to Sierra College for agreeing to air this video on their Distance Learning cable channel."
"Rebuilding After a Natural Disaster" will air on Sierra TV (Wave Broadband Channel 5 in Auburn) at the following times this weekend:
Friday, September 4, 2009 at 4pm and 7pm
Saturday, September 5, 2009 at 6pm and 9:05pm
Sunday, September 6, 2009 at 2pm and 8:30pm
CSLB is already at work in the fire zone, and has helped at the Local Assistance Center in Auburn this week, offering advice to prevent homeowners from being victimized a second time. Warning signs have also been posted in the area to alert fire victims of the possibility that unlicensed or unscrupulous contractors may try to scam them, and to warn unlicensed individuals that they could be charged with a felony if caught contracting without a state license in a disaster area.
From demolition to roof repair to rebuilding, contractors working on any job that totals $500 or more in labor and materials must be licensed by CSLB. To become licensed, a contractor must pass a licensing examination, verify at least four years of journey-level experience, and pass a criminal background check.
Consumers can verify a contractor's license status and find out if the contractor's license is active and in the right classification for the work to be done through CSLB's Web site at www.cslb.ca.gov or www.CheckTheLicenseFirst.com, or through its toll-free automated telephone system at 1-800-321-CSLB (2752). These resources also indicate whether there are any legal complaints against the contractor, if the business name and address are correct, and if there is workers' compensation insurance coverage for employees. Consumers can download tips and publications on a variety of subjects, including disaster scams, how to hire a contractor, and home improvement contracts from the CSLB Web site.
CSLB urges consumers to follow these tips when dealing with a building contractor:
Hire only licensed contractors and ask to see the license.
Don't hire the first contractor who comes along.
Don't rush into repairs, no matter how badly they're needed.
Verify the contractor's license at www.cslb.ca.gov or 1-800-321-CSLB (2752).
Don't pay more than 10 percent or $1,000, whichever is less, as a down payment.
Don't pay in cash, and don't let the payments get ahead of the work.
Get three bids, check references, and get a written contract.
In 2009, CSLB, which operates under the umbrella of the Department of Consumer Affairs, marks its 80th anniversary of protecting consumers by regulating California's construction industry. Today CSLB licenses about 315,000 contractors. In any given year, complaints are filed against only 3% of licensed contractors. In fiscal year 2007-08, the CSLB helped consumers recover $35.2 million in ordered restitution.
Archives: 2019 | 2018 | 2017 | 2016 | 2015 | 2014 | 2013 | 2012 | Releases 2011 and Earlier