Tweet
CSLB Begins Protection Measures for Station Wildfire Homeowners
Unlicensed contractors may face felony charges if caught in disaster area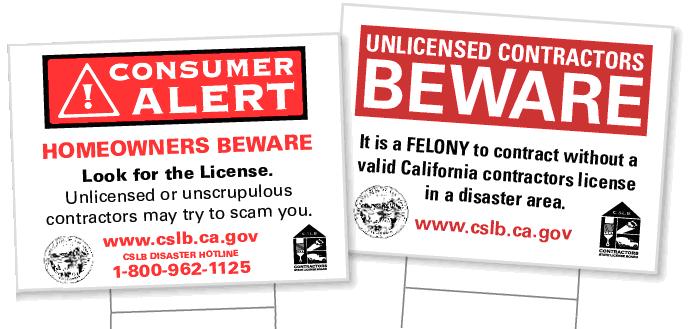 SACRAMENTO — The Contractors State License Board (CSLB) is warning illegal contractors to stay away from the Station Fire burn zone in Los Angeles County. Illegal operators face serious prison time if caught working or trying to get contracting work over $500 in a state-declared emergency area. CSLB is also cautioning residents to beware of unscrupulous or unlicensed operators who may try to take advantage of their vulnerability.
CSLB personnel, partnering with the California Department of Insurance, have begun canvassing the burned neighborhoods, offering help and advice to fire victims and coordinating enforcement efforts with other local, state and federal agencies. "Don't even think about contracting in a fire zone without a valid California contractor's license. We are serious about enforcement against scammers and illegal operators," said CSLB Registrar Steve Sands. "CSLB takes a proactive approach to eliminate many of the problems before they happen."
Homeowners can use the CSLB Web site (www.cslb.ca.gov or www.CheckTheLicenseFirst.com) to check a contractor's license status and history, download brochures like After a Disaster Don't Get Scammed or watch the CSLB video Rebuilding After a Natural Disaster. "Avoid the urge to rush into repairs or debris removal with the first contractor you meet, especially if they just show up without an invitation," said Sands. "Spend just a few minutes checking the contractor out with CSLB to make sure they're licensed."
CSLB is also reminding contractors who want to get work in the fire area that they must hold a valid California contractor license, in the appropriate classification, in order to perform most work on homes and other structures damaged or destroyed by the wildfires. They also must have the proper business license to work in the fire zone. Even people with the best intentions should know that it is illegal and may be punishable as a felony to perform contracting work in a natural disaster area without a valid state license.
Contractors working on any job - from demolition to roof repair to rebuilding - totaling $500 or more for labor and materials must be licensed by CSLB. To become licensed, a contractor must pass a licensing examination, verify at least four years of journey-level experience and pass a criminal background check. California contractors must carry a license bond, and provide workers' compensation insurance for their employees. A homeowner could face serious financial risk if workers who don't have insurance coverage are injured while on their property.
Homeowners should look closely at any paperwork or contracts they are handed. A standard home improvement contract is required to have a seven-day "Right-To-Cancel" notification for repairs or restoration of residential structures in an area for which a state of emergency has been declared. It is also important to note that repairs cannot be broken up into smaller projects to avoid the $500 threshold for licensing.
Consumers can verify a contractor's license status through CSLB's Web site or through its toll-free automated telephone system at 1-800-321-CSLB (2752). Find out if the contractor's license is active and in the right classification for the work to be done. Consumers can also see if there are any legal complaints against the contractor, if the business name and address are correct, and if there is workers' compensation insurance coverage for employees.
CSLB has also activated its Disaster Hotline: 1-800-962-1125. The line is open for disaster victims to call Monday through Friday, 8 a.m. to 5 p.m.
Hire only licensed contractors and ask to see the license.
Don't hire the first contractor who comes along.
Don't rush into repairs, no matter how badly they're needed.
Verify the contractor's license at www.cslb.ca.gov, http://www.checkthelicensefirst.com or 1-800-321-CSLB (2752).
Don't pay more than 10 percent or $1,000, whichever is less, as a down payment.
Don't pay in cash, and don't let the payments get ahead of the work.
Get three bids, check references, and get a written contract.
In 2009, CSLB, which operates under the umbrella of the Department of Consumer Affairs, marks its 80th anniversary of protecting consumers by regulating California's construction industry. Today CSLB licenses about 315,000 contractors. In any given year, complaints are filed against only 3% of licensed contractors. In fiscal year 2008-09, the CSLB helped consumers recover nearly $36 million in ordered restitution.
Archives: 2018 | 2017 | 2016 | 2015 | 2014 | 2013 | 2012 | 2011 | Releases 2010 and Earlier