Tweet
Contractors State License Board Goes Undercover to Trick Phony Contractors in Southwestern Riverside County
Two-day undercover sting operation no treat for those who contract without state license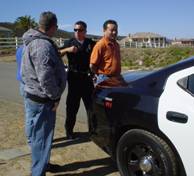 SACRAMENTO —The Contractors State License Board (CSLB) got an early chance to spook suspected unlicensed contractors during a pre-Halloween undercover sting operation this week in the city of Murrieta (Riverside County).
The sting was conducted by CSLB's Statewide Investigative Fraud Team (SWIFT) with back-up from the Murrieta Police Department. SWIFT investigators posed as homeowners and invited suspected unlicensed contractors to bid on a variety of home improvement projects including painting, flooring, tile, concrete, landscaping, fencing, iron fencing, and cabinets. By law, a state contractor license is needed by anyone hired for a home improvement project valued at $500 or more (materials and labor).
A total of 19 suspected unlicensed contractors were arrested; 18 of them received a Notice to Appear (NTA) and were released. They must appear in Riverside County Superior Court on January 27 and 28, 2010, to answer misdemeanor charges of contracting without a license and illegal advertising. The potential sentence for those violations is up to six months in jail and/or a $500 fine. Penalties increase if suspects are caught a second time.
One person, Bin Zhuo Zhou, 45, of Arcadia, was taken to Riverside County Jail on October 28, 2009, for an outstanding $40,000 arrest warrant. Zhou is a former licensed contractor (#702341) and now faces felony charges that include grand theft and diversion of construction funds. Zhou has a long history of complaints with CSLB. A case against him has been referred to the Attorney General's Office to revoke his license, which expired on February 28, 2007.
In another instance, a convicted felon who is in the country illegally quoted a SWIFT investigator $7,000 for some iron work. When police officers identified themselves, the suspect took off. He was captured a short time later and turned over to U.S. Customs and Border Protection agents.
"Consumers might think they're saving money by only considering the lowest bid," said CSLB Registrar Steve Sands. "Unfortunately, that person is probably not licensed. You also can't presume that someone is licensed just because they say they are. You need to check their license first with CSLB."
Homeowners face serious risk if a worker is hurt on their property and the person is not covered by workers' compensation insurance. The property owner could be held liable for any medical expenses.
Licensed contractors are required to carry bonds that enable consumers to recoup losses should a mistake or accident occur, and workers' compensation insurance for their employees, when necessary. If the contractor is unlicensed, the homeowner's only recourse may be through small claims court if the homeowner is even able to find the unlicensed operator.
CSLB urges consumers to remember the following tips when hiring a contractor:
Be especially hesitant when approached by someone offering home improvement services door-to-door.
Verify the contractor's license by checking online at www.cslb.ca.gov, or via CSLB's automated phone system at 1-800-321-CSLB (2752).
Don't pay more than 10% down or $1,000, whichever is less. There is an exception made for about two dozen licensees who carry special coverage to ensure consumer protection and may ask for more than a ten percent down payment. Those exceptions are noted on the CSLB Web site.
Don't pay in cash, and don't let the payments get ahead of the work.
Check references, and get at least three bids and a written contract before your project begins.
Contact CSLB if you have a complaint against a contractor.
CSLB offers a host of helpful consumer publications that can be downloaded at www.cslb.ca.gov or www.CheckTheLicenseFirst.com, or ordered by calling, toll-free:1-800-321-CSLB (2752).
In 2009, CSLB, which operates under the umbrella of the Department of Consumer Affairs, marks its 80th anniversary of protecting consumers by regulating California's construction industry. Today, CSLB licenses about 315,000 contractors. In any given year, complaints are filed against only 3% of licensed contractors. In fiscal year 2008-09, CSLB helped consumers recover nearly $36 million in ordered restitution.
Archives: 2019 | 2018 | 2017 | 2016 | 2015 | 2014 | 2013 | 2012 | Releases 2011 and Earlier