Tweet
Contractors State License Board Joins Partners to Sweep Through Auburn "49 Fire" Burn Area
Repeat Offender may face felony charge after getting caught by CSLB again.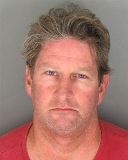 SACRAMENTO —In an effort to keep those who suffered losses in Auburn's "49 Fire" from becoming victimized twice, the Contractors State License Board (CSLB) and other law enforcement partners conducted a sweep through the burn area on Tuesday, October 20, 2009. Sweeps are typically conducted following disasters where homes and/or businesses have been destroyed or damaged as part of CSLB's Statewide Investigative Fraud Team's (SWIFT) efforts to crack down on the underground economy.
SWIFT investigators, along with teams from the Department of Insurance (DOI), Placer County District Attorney's Office, and the Placer County Sheriff's Department swept through job sites in the area where Governor Arnold Schwarzenegger declared a State of Emergency on August 31, 2009 and checked licenses for 23 different entities.
One person was arrested on a felony charge of contracting without a license in a disaster area. The potential penalty for that crime is up to three years in state prison and a fine of up to $10,000 (Business & Professions Code 7028.16).
The man arrested is no stranger to CSLB. Jeffrey Lyn Scott, 48, of Antelope (Sacramento County) has been nabbed for unlicensed contracting in two prior undercover sting operations and as the result of a consumer complaint investigation. At the time of the arrest yesterday, Scott was serving three years probation after pleading "No Contest" to contracting without a license at a sting in Yolo County on September 27, 2006. He also served 10 days in jail. In addition, Scott paid a $1,500 administrative citation in 2007 for a similar crime.
Yesterday Scott, operating under the name of "Jeff Scott Landscape Services" was caught doing a $3,300 job to rebuild a fence and landscape a yard destroyed in the wildfire.
"CSLB is serious about rooting out those who might potentially scam fire victims with fraudulent home repair schemes," said CSLB Registrar Steve Sands. "CSLB's posting of signs following natural disasters and proactive sweeps during the recovery efforts have helped cut the number of consumer fraud complaints following such events."
The Placer County District Attorney's Office will review the case and consider options for prosecution. "Our office must protect against further victimization of those citizens who lost homes or sustained damage," said Assistant District Attorney Scott Owens. "This includes prosecution of unlicensed contractors who prey upon the unwary."
The sweep also focused on workers' compensation insurance violators. Seven licensed contractors received CSLB warning letters for not carrying workers' compensation insurance. Three of those cases are being investigated by the Placer County District Attorney's Office and Department of Insurance for possible misdemeanor charges.
As a condition of licensure, contractors must carry workers' compensation for all employees except for themselves if they certify they have none, unless they are roofing contractors (C-39 license). All roofing contractors must have workers' comp coverage, even if they have no employees. This coverage insures that if a worker is injured on the home owner's property, the consumer is not held liable.
CSLB also used the sweep as an opportunity to educate home owners about the importance of checking out contractors before hiring them, and to let licensees know where they can report suspected unlicensed activity if they see it. CSLB's free publication After a Disaster, Don't Get Scammed! includes tips on rebuilding such as:
Don't rush into repairs, no matter how badly they are needed
Get at least three bids
Don't hire the first contractor who comes along
Check out all licenses at www.cslb.ca.gov or www.CheckTheLicenseFirst.com
Be cautious about door-to-door offers of repair services and flyers or business cards that are left on your doorstep
Ask friends, family and associates for recommendations about contractors they have hired
Never pay in cash
Even for the smallest job, get proof that the person you are dealing with has a contractor's license for the type of work that needs to be done
Get a written contract that details every aspect of the work plan
In 2009, CSLB, which operates under the umbrella of the Department of Consumer Affairs, marks its 80th anniversary of protecting consumers by regulating California's construction industry. Today CSLB licenses more than 315,000 contractors. In any given year, complaints are filed against only 3% of licensed contractors. In fiscal year 2008-09, CSLB helped consumers recover nearly $36 million in ordered restitution. Learn more about CSLB at www.cslb.ca.gov or www.CheckTheLicenseFirst.com.
Archives: 2019 | 2018 | 2017 | 2016 | 2015 | 2014 | 2013 | 2012 | Releases 2011 and Earlier