Tweet
Contractors State License Board Issues Paving Scam Consumer Alert
Board warns consumers to watch out for notorious transient asphalt contractors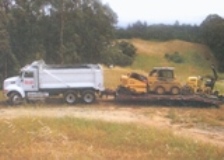 SACRAMENTO — The Contractors State License Board (CSLB) has issued a Consumer Alert for California's Central Coast regions about a notorious band of transient, unlicensed paving contractors.
CSLB's Statewide Investigative Fraud Team (SWIFT) investigators are searching for individuals who may have done business with or were scammed by 45-year-old Kevin Snow, Sr. or his sons, 21-year-old Kevin Snow and 19-year-old George Snow. The family, from Salisbury, Massachusetts, is known to have been operating in Monterey County and the surrounding areas during April and May, using white dump trucks and other paving equipment bearing Massachusetts license plates and red logos with the business name of "Ready Rock."
The Snows and their associates approach consumers, claiming to have extra asphalt from a prior job, and offer them a "good deal" to fill potholes and overlay or seal parking lots or drive ways "right now." The Snows and their associates then claim they need more money to finish the job. They quickly cash checks, sometimes for several or even tens of thousands of dollars, and leave the area before customers realize the paving work is substandard and they have been scammed. The Snows are using the license number for Porrero McLaughlin (CSLB #894592) in Temecula, California, but ask for checks to be made out directly to them, which should tip off consumers that they may not be dealing with a legitimate operation. Another red flag for consumers is that the Snows and their associates provide customers with telephone numbers for out-of-state area codes or toll-free numbers, and do not have a physical business address.
Last week, the Snow brothers and their cousin, George Stanley, 29, of Moosup, Connecticut, were arrested in Butte County on suspicion of elder abuse, conspiracy to commit a felony, theft by false pretenses, felony use of someone else's contractors license, contracting without a license, and illegal advertising, all related to paving work. CSLB investigators seized and impounded more than $500,000.00 worth of paving equipment and personal vehicles, and thousands of dollars in cash from the three suspects following their June 24, 2009 arrests in Chico. They falsely claimed to be licensed by Porrero McLaughlin on those jobs.
George Stanley is well known to CSLB investigators. There are pending criminal and civil charges against Stanley in Tulare and Yuba Counties from similar arrests in 2008. Stanley is also suspected of similar scams in Washington and Idaho.
Anyone who has come in contact with the Snows or Stanley should contact the CSLB SWIFT unit at (916) 255-2924.
CSLB recommends the following actions if approached by these suspects or anyone offering a deal that sounds too good to be true:
Ask to see the contractor's pocket license card.
Verify the contractor's license at www.cslb.ca.gov or 1-800-321-CSLB (2752).
Don't rush into repairs, no matter how badly they're needed.
Don't pay more than 10 percent or $1,000, whichever is less, as a down payment.
Don't pay in cash.
Get at least three bids, check references, and get a written contract.
In 2009, CSLB, which operates under the umbrella of the Department of Consumer Affairs, marks its 80th anniversary of protecting consumers by regulating California's construction industry. Today CSLB licenses more than 316,000 contractors. In any given year, complaints are filed against only 3% of licensed contractors. In fiscal year 2007-08, the CSLB helped consumers recover $35.2 million in ordered restitution.
Archives: 2019 | 2018 | 2017 | 2016 | 2015 | 2014 | 2013 | 2012 | Releases 2011 and Earlier