Tweet
Contractors State License Board is Maintaining Active Presence against Illegal Activity in Southern California Fire Zones
Unlicensed contractors could face felony charges if caught in declared disaster area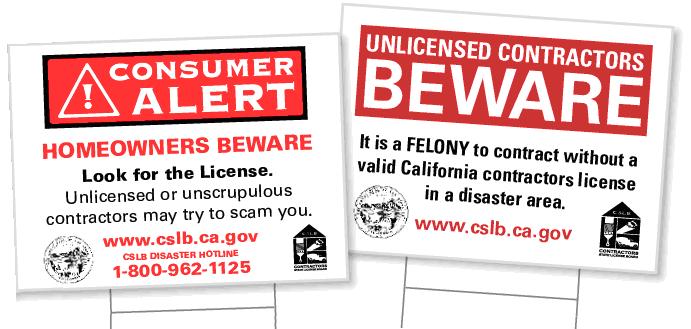 SACRAMENTO — The Contractors State License Board (CSLB) is having an immediate and active presence in the Southern California fire disaster zones this week, cautioning fire victims to be aware of unscrupulous or unlicensed contractors who may try to take advantage of their situation and issuing a stern warning for unlicensed contractors thinking about trying to get work there during the rebuilding effort. Illegal operators face serious prison time if caught working or trying to get contracting jobs over $500 in a declared disaster area.
"Don't even think about contracting in a fire zone without a valid California contractor's license." said CSLB Registrar Steve Sands. "We will do everything we can to help disaster victims, while letting the illegal operators know they're being watched. We'll do everything we can to make sure they don't become a victim a second time." CSLB is coordinating with state and local agencies to conduct sting and sweep operations in the fire zones, to target illegal operators.
CSLB personnel have already been walking through the burned neighborhoods in Los Angeles, Orange, Riverside and Santa Barbara Counties, posting hundreds of warning signs, offering help and advice to fire victims.
Homeowners are getting information on how to protect themselves by using CSLB's resources to check a contractor's license status and history, along with tips about the contracting process. "Avoid the urge to rush into repairs or rubble removal with the first contractor you meet, especially if they just show up without an invitation," said Sands. "Spend just a few minutes checking the contractor out with CSLB to make sure they're licensed. Check also with your local government for services or programs they offer."
The CSLB is also reminding contractors who want to get work in the disaster area that they must hold a valid California contractors license, in the appropriate classification, in order to perform most work on homes and other structures damaged or destroyed by the wildfires. They must also have the proper business license to work in the fire zone. Even people with the best intentions should know it is illegal and punishable as a felony to perform contracting work in a state or federally declared disaster area without a valid California contractor's license. Punishment may include a fine of up to $10,000 or up to 16 months in state prison.
Contractors working on any job - from demolition to roof repair to rebuilding - totaling $500 or more for labor and materials must be licensed by the CSLB. To become licensed, a contractor must verify at least four years of journey-level experience, pass two licensing exams and carry a $12,500 license bond.
Homeowners should look closely at any paperwork or contracts they are handed. A standard home improvement contract is required to have a 7-day "Right-To-Cancel" notification for repairs or restoration of residential structures in an area for which a state of emergency has been declared. It is also important to note that repairs cannot be broken up into smaller projects to avoid the $500 threshold for licensing.
Consumers can verify a contractor's license status through the CSLB's Web site at www.cslb.ca.gov or through its toll-free automated telephone system at 1-800-321-CSLB (2752). Find out if the contractor's license is active and in the right classification for the work to be done. Consumers can also see if there are any legal complaints against the contractor, if the business name and address are correct, and if there is workers' compensation insurance coverage for employees. Consumers can download tips and publications on topics like disaster scams, hiring a contractor and home improvement contracts from the CSLB Web site.
The CSLB has also activated its Disaster Hotline. The line is open for disaster victims to call Monday through Friday, 8 a.m. to 5 p.m., at 1-800-962-1125.
The CSLB urges consumers to follow these tips when dealing with a building contractor:
Hire only licensed contractors and ask to see the license and photo I.D.
Verify the contractor's license at www.cslb.ca.gov or 1-800-321-CSLB (2752)
Don't hire the first contractor who comes along
Don't rush into repairs, no matter how badly they're needed
Don't pay more than 10 percent or $1,000, whichever is less, as a down payment
Don't pay cash, and don't let the payments get ahead of the work
Get three bids, check references, and get a written contract
The Contractors State License Board operates under the umbrella of the California Department of Consumer Affairs. The CSLB licenses and regulates California's 316,000 contractors, and investigates more than 20,000 complaints against contractors annually. In fiscal year 2007-08, the CSLB helped consumers get $35.2 million in ordered restitution.
Archives: 2019 | 2018 | 2017 | 2016 | 2015 | 2014 | 2013 | 2012 | Releases 2011 and Earlier