Tweet
Contractors State License Board Investigates Traveling Paving Scam
More than a quarter-million dollars of equipment impounded while investigators seek more victims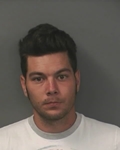 SACRAMENTO — A band of transient unlicensed asphalt pavers suspected of scamming residents up and down the state were rounded up Wednesday afternoon by investigators from the Contractors State License Board (CSLB), with help from the Yuba County Sheriff's and District Attorney's offices. Their leader, George Stanley, 28, of Moosup, Connecticut, was given a Notice to Appear (NTA) in Yuba County Superior Court on May 29, 2008, to face charges of contracting without a license (Business & Professions (B&P) Code 7028, illegal advertising (B&P 7027.1) and not having workers' compensation insurance (Labor Code 3700.5).
CSLB's Statewide Investigative Fraud Team (SWIFT) investigators believe Stanley and his crew, operating under the name of "Community Paving," has been working its way around the state, ripping off unsuspecting property owners. Since Stanley was released-while local authorities determine if additional charges will be pursued-he may return to work. This is in spite of having about $300,000 worth of equipment impounded, including a dump truck, trailer, bobcat, roller, paver, and vehicle. A similar dump truck was spotted in the parking lot of a Sacramento area motel.
Anyone who has had contact with, has knowledge of, or has been taken advantage of by the traveling crew should contact SWIFT investigators. In addition to sightings in the Sacramento-Stockton region, suspects matching the description of Stanley and his crew have been reported in locations as far south as Calexico and as far north as Yuba City. They may have been working their way around the state since the beginning of the year.
Anyone with information should contact the SWIFT team immediately:
Imperial, Los Angeles, Orange, Riverside, San Bernardino, and San Diego, call the Norwalk SWIFT Unit at: (562) 345-7600
All other counties, contact the Sacramento SWIFT Unit at: (916) 255-2924
The scammers usually approach property owners saying they have leftover materials and offer to fix potholes or pave driveways at bargain rates. Then, they raise the price, use defective materials, and/or do poor work. They often ask for payment upfront or will cash checks and leave the area before victims know they've been ripped off.
There are bands of fraudulent home repair workers who are often members of extended families that move around the country scamming residents. They usually target the elderly or other trusting individuals who may not understand what is being sold. "Be very wary of solicitors offering door-to-door home improvement services," said CSLB Registrar Steve Sands. "Don't let anyone in your home or yard unless you have checked them out. You can ask to see their CSLB Pocket License, and then look it up on the Contractors Board Web site to see if it is valid."
The CSLB urges consumers to be wary of transient solicitors and to watch for these "red flags":
Door-to-door solicitations
Unsolicited offers to do painting, roofing or paving work
Claims of leftover materials
High pressure or scare tactics
Reluctance to sign a written contract
Demand for payment in cash
Brand new vehicles, dump trucks or other heavy road construction equipment with out-of-state license plates
Toll-free business telephone number, instead of a local contact number
The Contractors State License Board operates under the umbrella of the California Department of Consumer Affairs. More information and publications about hiring contractors is available on the CSLB Web site, or by calling 800-321-2752. The CSLB licenses and regulates California's 315,000 contractors, and investigates more than 20,000 complaints against contractors annually. In fiscal year 2006-07, the CSLB obtained nearly $45 million in ordered restitution for consumers.
Additional Photos
Archives: 2019 | 2018 | 2017 | 2016 | 2015 | 2014 | 2013 | 2012 | Releases 2011 and Earlier