Tweet
State Contractors Board and Partners Target Construction Sites in Sacramento, Placer and El Dorado Counties for Enforcement Sweep
Economic and Employment Enforcement Coalition takes aim on state's multi-billion dollar underground economy problem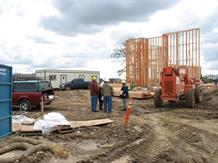 SACRAMENTO — The tri-county area of Sacramento, Placer and El Dorado provided the latest targets for the State's Economic and Employment Enforcement Coalition (EEEC). The EEEC partnering agencies are the Contractors State License Board (CSLB), the Labor & Workforce Development Agency and its Department of Industrial Relation'' Division of Occupational Safety and Health (Cal/OSHA), Division of Labor Standards Enforcement (DLSE) and the Employment Development Department (EDD). The EEEC's focus is going after those participating in California's huge illegal underground economy.
In this latest series of sweeps, four partnered teams visited 73 different construction sites on Wednesday and Thursday (March 15-16) in the El Dorado Hills, Roseville, Rocklin, and Elk Grove. Thirty-one of the operations were issued a stop order until the violations were cleared up. EEEC investigators interviewed more than 470 workers, managers, owners, and safety officers and checked the businesses' paperwork. The sweep resulted in more than 21 citations with $180,200 in assessed fines, and almost a dozen audits are in progress. In addition, over 100 violations have been noted with a possibility of $174,500 in potential penalties. (Additional breakdown numbers are provided at end of this press release.)
Sweeps like this one target businesses that avoid labor, tax and licensing laws to gain a competitive advantage over the almost 300,000 legitimate contractors who follow the law. The underground economy is fueled in part by unlicensed contractors who also prey upon consumers, endanger employees and cheat on taxes. It's estimated that anywhere from $60 to $140 billion a year moves through the underground economy. Taxes on this money could be going towards schools, roads and law enforcement instead of lining the pockets of lawbreakers.
"We're all affected by contractors who break the law. Not only do they take business away from legitimate business people, they're putting consumers at risk," said CSLB Registrar Steve Sands. "If a consumer has a problem, there's very little that can be done to help them. Plus, if a worker gets hurt while on their property, the consumer could be responsible for paying the medical bills."
There were six unlicensed contractor violations during the two-day sweep. One repeat offender was arrested in Elk Grove and is facing multiple charges, including child labor violations. Review of records and paperwork may result in additional investigations, violations and fines. Here are some partial results.
El Dorado County
18 Inspections
32 total DOSH violations
$65,500 in projected civil penalties
Placer County
95 Inspections
4 CSLB Citations
45 total DOSH violations
$65,000 + in projected penalties
Sacramento County
67 inspections
20 total DOSH violations
3 CSLB Citations
$50,000 in projected penalties
Operations in San Diego, Kern, San Luis Obispo, Santa Barbara and Riverside counties have netted over 350 violations and around $1 million in potential fines since the EEEC was launched last July. Other Task Force teams are conducting similar industry sweeps in agriculture, restaurant, car wash, garment manufacturing, janitorial and racetrack businesses.
The Contractors State License Board operates under the umbrella of the California Department of Consumer Affairs. The CSLB licenses and regulates California's 299,000 contractors, and investigates more than 20,000 complaints against contractors annually. In fiscal year 2004-05, the CSLB helped consumers get more than $36 million in restitution.
Archives: 2018 | 2017 | 2016 | 2015 | 2014 | 2013 | 2012 | 2011 | Releases 2010 and Earlier