Tweet
Repeat Offender Nabbed By State Contractors Board with Thousands of Dollars in Illegal Contracting Deals
Arrested suspect has 25-year history of contracting violations.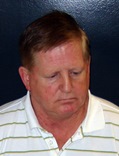 SACRAMENTO — A Sacramento man was arrested Thursday following tips about an illegal contracting business on Bradshaw Road. Charles Peter Maffia has a complaint history with the Contractors State License Board (CSLB) that goes back to 1980. The Board has received more than 16 complaints against him for unlicensed activity. His criminal background includes almost four years (44 months) in state prison for the fraudulent use of a contractor's license.
CSLB's Statewide Investigative Fraud Team (SWIFT) received a tip that Maffia was using the license number of a legitimate contractor without his permission. He allegedly was contracting with a Sacramento area church for $100,000 worth of construction work. The investigation into his recent activities is continuing. But, it is believed his illegal contracting business with additional victims could add up to millions of dollars. Anyone who believes they were victimized by Maffia or his business called "A.G.U. Construction," is strongly encouraged to contact the Board at: (916) 255-2924 / FAX (916) 369-7265.
The arrest Thursday at Maffia's office was made with help from the Rancho Cordova Police Department. Initial charges were filed for contracting without a license, using another person's license and illegal advertising. A search of Maffia's office indicated that he might have been operating with at least eight employees and no workers compensation insurance to cover those employees.
"There are individuals out there who will try to make an illegal profit at your expense," said CSLB Registrar Steve Sands. "Make sure you check out a contractor before you sign anything. Make sure everything matches up - contractors license number, personal ID and check with the Board to see if there are any complaints."
The CSLB also urges consumers to follow these tips when hiring any contractor:
Hire only licensed contractors
Verify the license owner, business name and address and ask for a picture I.D.
Verify the contractor's license at www.cslb.ca.gov or call (800) 321-CSLB (2752)
Get three bids and check references
Get a written contract
Do not pay more than 10 percent down or $1,000, whichever is less
Do not let payments get ahead of the work
Do not pay cash
The Contractors State License Board operates under the umbrella of the California Department of Consumer Affairs. The CSLB licenses and regulates California's 297,000 contractors, and investigates more than 20,000 complaints against contractors annually. In fiscal year 2004-05, the CSLB helped consumers get more than $36 million in restitution.To check out a contractor's license, visit our website at www.cslb.ca.gov or call (800) 321-CSLB (2752).
Archives: 2018 | 2017 | 2016 | 2015 | 2014 | 2013 | 2012 | 2011 | Releases 2010 and Earlier