Tweet
Most Wanted - Khalid Wilson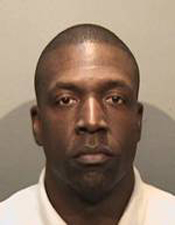 ALIASES: Khalid Muhammed
SEX: Male
HEIGHT: 6' 1"
WEIGHT: 205
HAIR: Black
EYES: Brown
BIRTH YEAR: 1971
COMPLEXION: Dark
IDENTIFIERS: Unknown
Khalid Wilson - Unlicensed Contractor
VIOLATIONS:
Fraudulent use of contractor license number, grand theft, contracting without a license, soliciting excessive down payments, illegal advertising
KNOWN LOCATIONS:
East San Francisco Bay Area
BUSINESS NAME(S):
First Impressions Painting and Decorating
OTHER:
Wilson's CSLB license (#799081) was revoked in 2004.
On July 9, 2014, Wilson pled no contest to a felony violation of Penal Code Section 484b, diversion of construction funds.
Wilson is scheduled to be sentenced on August 22, 2014. He's expected to be sentenced to two years local prison on his felony probation violation; and five years of formal felony probation. Wilson will also be responsible for paying restitution to victimized consumers.
Earlier, Wilson pleaded no contest to fraudulent use of a contractor license number and contracting without a license in Alameda County in September 2008, and guilty to the same charges in Contra Costa County in December 2008.
Wilson used his revoked license number to mislead consumers that he is licensed. He then took excessive down payments and did little or poor work, without completing the projects.
It's also believed Wilson was the publisher of "First Impressions Home Improvement Magazine," a home improvement magazine distributed around the San Francisco Bay Area and a related Website.
ADDITIONAL INFO:
Khalid Wilson Complaint/Probation Violations
Last Updated August 13, 2014
WARNING:
NO ATTEMPT SHOULD BE MADE TO APPREHEND THIS INDIVIDUAL, EXCEPT BY LAW ENFORCEMENT OFFICERS.
This individual has been involved in unlicensed activity and an arrest warrant has been issued. If you see this person or have any information as to this person's whereabouts, please contact your local Police or Sheriff's Department. After contacting local law enforcement, call the Contractors State License Board in northern California at (916) 255-2924 on in southern California at (562) 345-7600. Warrants must be verfied with the law enforcement agency holding the warrant before and apprehension can be made.
CSLB makes every effort to provide accuracy in reporting and is not responsible for errors/omissions. Submit corrections to the CSLB Public Affairs Office.
Media Room Popular Pages
Connect with us on Twitter
Like Us on Facebook